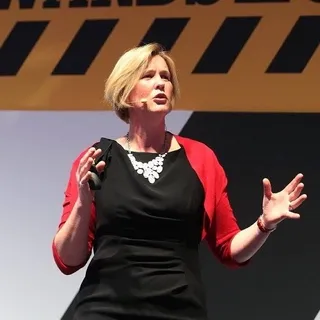 Mandy Hickson
The second woman to fly the Tornado GR4 operationally, charismatic high-flier Mandy Hickson draws on her experience as a former Royal Air Force pilot to inspire others as a motivational and keynote speaker who takes audiences to new heights of self-belief.
"Particularly appreciated the 'external perspective on overcoming challenges and preparing for them.'"
Royal Bank Of Scotland Plc
Mandy Hickson's long-time ambition to be a Royal Air Force pilot once seemed impossibly out of reach; but many a multi-million pound fast jet later, her impressive flying career proves that obstacles can be overcome to achieve dreams. Now a civilian with over 30 years experience within aviation, Mandy inspires others to achieve their goals and fascinates with anecdotes from her exhilarating times spent on the front line.
After joining the Air Training Corps at school, Mandy's interest in the military gathered supersonic speed; at the age of just 17, she was awarded an RAF flying scholarship, followed by a private pilot's license.
Studying Geography and Sports Science at Birmingham University, Mandy continued to foster her flying aspirations with the University Air Squadron, and eventually became its president. In her final year, she won several inter-squadron national aerobatics competitions.
It was early on that Mandy learned not to shy away from failure. After two unsuccessful attempts at the RAF flying aptitude tests, reaching the limit of times that they can be taken, her goals appeared to be unattainable. Undeterred, Mandy went on to join the RAF as an Air Traffic Controller and continued to make her case for becoming a pilot throughout her officer training. Finally, the RAF decided to offer her pilot training as a test case, having observed her skills in the real world.
The only female aircrew, Mandy trained on the Firefly, Tucano and Hawk aircraft, and was awarded many prizes for leadership. She was the second woman to fly the Tornado GR4 operationally, and completed three tours of duty and flew 45 missions over Iraq. She continues to support the success of women founder and Co-Director of Inspiring Women for Work (IWFW) – a vibrant event designed to lead women towards gaining a more confident, motivated and focused mind set.
Since leaving the RAF Mandy has served as a school governor, on the board of trustees at the Victory Services Club, is ambassador for sport for Hampshire County Council and has been the Chairman of her local tennis club.She still supports the RAF as a Volunteer Reservist, flying Air Cadets in the Grob Tutor aircraft. She is also the author of highly acclaimed book An Officer, Not a Gentleman.
Stressing the need to remain calm under pressure, leading from the front, and how to make strategic decisions when faced with risk, Mandy shares how to communicate, empower and how to draw the best from herself and others. She never fails to engage audiences with her candour, humour and limitless energy.
Mandy is now a highly demanded keynote speaker across a range of business sectors, where she talks with humour and great passion to inspire those around her. She has been invited to share her insights with some of the most successful organisations across the world where she describes the strategies and behaviours that can adopted when the stakes are at their highest.
For further information or to book Mandy Hickson, call us on +44 (0)20 7607 7070 or email info@speakerscorner.co.uk
What people said about Mandy Hickson
"Particularly appreciated the 'external perspective on overcoming challenges and preparing for them.'"

Royal Bank Of Scotland Plc
Want to know more about Mandy Hickson
Other speakers you might like
Speakers Corner (London) Ltd,
Ground and Lower Ground Floor,
5-6 Mallow Street,
London,
EC1Y 8RQ