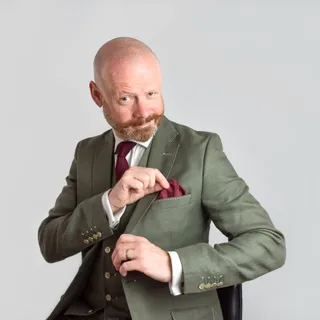 Alistair Barrie
Actor, writer and comedian, Alistair Barrie is an internationally renowned stand-up act. Appearing on radio, television and a member of the team at London's Comedy Store, Alistair is regularly touring and appearing at festivals showcasing his immense talents. Able to tailor his corporate performance to an individual company, Alistair's bespoke performance is sure to set the tone for an event. Memorable and quick witted, Alistair is a sure fire hit.
"Researched the audience well and his set was very thought-out and appropriate, funny and went down a treat!"
Alistair Barrie is a stand-up comedian and a charismatic awards host; he has worked performed in over 40 countries around the world. Whether he is hosting an awards ceremony of performing his stand-up act, Alistair will not fail to impress audiences at corporate events.
Alistair is well known on the comedy circuit and has appeared on a number of television and radio programmes including The World Stands Up on BBC America, Celebrity Deal or No Deal with Jimmy Carr and Richard and Judy. Alistair has appeared regularly on Sky News and BBC News to speak on political affairs such as Bye George a comedy show he created and compered, allowing comedians to say goodbye to George W. Bush when his presidency ended.
As a stand-up comedian, Alistair has performed at the world's most popular festivals including Glastonbury, the Edinburgh Fringe Festival, Latitude Festival, Bestival and the Cape Town Comedy Festival to name a few. Alistair's act was nominated for 'Best Show at The Fringe'in 2013 and 2015.
Alistair is a man of many talents and has also written material for shows on the BBC, Channel 4, Radio 4 and writes for other comedians.
Alistair's show No Pressure to be Funny, a topical production that takes place monthly at the Soho Theatre alongside LBC's James O'Brien and former Perrier nominee Nick Revell, was such a success it was taken to the Edinburgh Festival, for a Festival special in association with Amnesty International.
Alistair is a fantastic stand-up comedian with the ability to entertain audiences all over the world; he is also an adept and charismatic awards host with the ability to tailor his humour to meet the requirements of the client.
Not only comfortable as a stand-up, Alistair is also an experienced awards host and compere at corporate events and has worked clients such as Sony Playstation, Orange, RESI, Scottish Design Awards, Statoil, Atea, Acergy, BTI, Avaya and Barkers Shoes.
In 2014 Alistair made the Evening Standard magazine 'They Might be Giants' shortlist, an award which can be compared to a 'top 5 comics to look out for' accolade.
Sharp and diverse, Alistair can tailor his act to all manner of events. His witty stand-up and professional presenting skills ensure he is a brilliant choice.
For further information or to book Alistair Barrie, call us on +44 (0)20 7607 7070 or email info@speakerscorner.co.uk
What people said about Alistair Barrie
"Researched the audience well and his set was very thought-out and appropriate, funny and went down a treat!"

Stable Publishing Ltd
Want to know more about Alistair Barrie
Other speakers you might like
Speakers Corner (London) Ltd,
Ground and Lower Ground Floor,
5-6 Mallow Street,
London,
EC1Y 8RQ