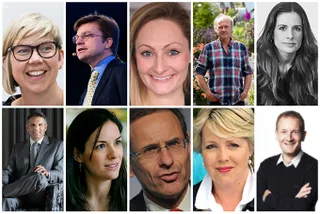 10 Thought-Provoking Speakers For Fairtrade Fortnight
It may not seem like climate change needs much promotion - from Greta Thunberg to the COP26, everyone's talking about it. But there's a large gulf between talking about something and taking action - which is why initiatives like Fairtrade Fortnight are so important.
Fairtrade Fortnight (21st February - 6th March 2022) is an opportunity for businesses to raise awareness of the ongoing issues surrounding farming, trade, and climate change. From technology companies to fashion brands, every industry is facing mounting pressure to adopt sustainable business practices - so it's important that business owners take steps to ensure their staff understand the impact of climate change.
Everyone has a part to play in urging our government to commit to greater changes for the good of the planet - and it starts with education. Our sustainability speakers have the knowledge and nous to help your staff understand more about climate change, and what businesses and individuals can do to help. These inspirational speakers will educate and embolden your staff this Fairtrade Fortnight.
Katie Treggiden's twin passions - craft and climate - are proof that you don't need to be a scientist to make an impact on climate change. She's shown that the creative arts - particularly craft and design - can contribute to the circular economy, motivating artists and designers to reuse materials wherever they can. For forward-thinking companies and design studios, Katie is a fascinating speaker.
Dr Wayne Visser is a master of all trades. As a strategy analyst, sustainability advisor, corporate social responsibility expert, futurist, filmmaker, storyteller and self-described memeweaver, he has all the hallmarks of a fantastic corporate motivational speaker. As a top 100 sustainable business influencer, he's sure to inspire your team to take action for the future of your business, as well as the Earth.
Linda Zeilina
Linda Zeilina's commitment to changing the world reaches across an entire continent. Born in Latvia, Linda now runs and advises sustainability initiatives in cities across Europe, including London, Prague, and Oslo. Her ability to transcend language and culture for a common goal is awe-inspiring - and a great lesson for any business with global ambitions.
As co-founder of the Eden Project, Sir Tim Smit knows how to conceive and create an initiative that inspires, teaches, excites - and generates revenue. The Eden Project was designed to create life in a place that was derelict and deserted; today, it throngs with flora and fauna in a series of ecosystems, helping show us that it's never too late to take action. Through sharing the Eden Project's vision - and the story behind his success - Tim will inspire your team to take part in initiatives like Fairtrade Fortnight. His creativity, passion and innovation are fantastic motivators for teams in any industry.
Livia Firth
No stranger to innovative environmental initiatives, Livia Firth is a fantastic speaker for promoting Fairtrade Fortnight. Livia founded the Green Carpet Challenge, which promotes sustainable fashion choices via the red carpet. With plenty of press attending high-profile premieres and events, publicising the Green Carpet Challenge was simple - and has involved celebrities including Olivia Colman, Bradley Cooper, and Jessie J. Her story highlights how anyone can use the tools already at their disposal to do their bit for the planet.
Jeremy Schwartz has worked with a number of world-famous companies to implement better sustainability practices, including Coca Cola, Pandora and the Body Shop. Jeremy has brought many visionary ideas to these businesses - and in doing so, he's experienced resistance and fear as well as hope. His story will relate to staff across your business, and promotes courage and cooperation as key tactics in the pursuit of sustainable business practices.
Farming and food are at the heart of Fairtrade - and Jessica Sansom understands this more than most. Not only did she grow up on a farm, she's also implemented successful sustainability initiatives at a range of well-known food and drink companies - so she knows what it takes for businesses to make real changes. With her enthusiasm and warmth, Jessica is sure to inspire your staff this Fairtrade Fortnight.
As a renowned broadcaster on environmental issues, Roger Harrabin is an expert when it comes to making sustainability and climate change easy for everyone to understand. From farming to foreign policy, overfishing to obesity, Roger has an extraordinary knowledge of how a variety of issues intertwine to impact climate change. As a speaker, he provides significant insights into how businesses can take action to minimise the effects of climate change.
As 'matron' of the Women's Environmental Network, Jo Fairley is a compelling speaker on all kinds of green issues. She's also the co-founder of organic chocolatiers Green & Black's - a company famously committed to Fairtrade practices and ethical cocoa farming. With her business background and passion for environmental issues, she's a fantastic speaker to highlight the good that can come from Fairtrade Fortnight.
Steve Howard
Steve Howard's career has been forged by his desire to protect both the planet and its people. He's founded a series of corporate coalitions that focus on getting businesses to commit to ambitious eco initiatives, including the 2015 Paris Agreement. Seven years later, there's still a lot businesses need to do - and as a speaker, Steve has the passion and delivery to motivate your staff to make planet-positive changes.
Choose A Sustainability Speaker To Motivate Your Staff For Fairtrade Fortnight
Help your staff learn more about climate change and sustainability issues with a professional speaker this Fairtrade Fortnight. 
Our speakers are passionate about saving the planet, and their business expertise means they'll be able to educate your employees, inspiring them to take action and support your business's approach to sustainability. 
To hire an inspiring speaker, get in touch with our friendly, impartial team and we'll help you find the perfect speaker for your business. Call us on +44 (0) 20 7607 7070 or email info@speakerscorner.co.uk
Have an enquiry?
Send us a message online and we'll respond within the hour during business hours. Alternatively, please call us our friendly team of experts on +44 (0) 20 7607 7070.
Speakers Corner (London) Ltd,
Ground and Lower Ground Floor,
5-6 Mallow Street,
London,
EC1Y 8RQ