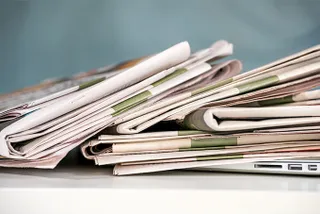 Adventure for Gadget Show's Pollyanna Woodward
Adrenaline junkie Pollyanna Woodward speaks to OK Magazine about her next adventure: the Patrouille des Glaciers - originally organised by the Swiss Army to test the endurance abilities of its mountain troops in World War Two.
She has previously bungee-jumped 200 feet off a bridge in South Africa and competed in a power tool drag race – so heart-racing adventures are not a new experience for the presenter and awards host .
But the gruelling, 53km extreme ski-mountaineering race in the Swiss Alps, regarded by experts as the toughest alpine race in the world, will certainly be one of her most daunting challenges.
"I am under no illusion whatsoever that this isn't going to hurt me!" confesses the 29-year-old. Ex-Marine and performance coach Bernie Shrosbree, will be training Polyanna.
"It's going to be tough on Pollyana, physically and mentally!' says Shrosbee. 'It's up and down all the way, reaching heights close to 4,000m – but we're still aiming to complete the race in about ten hours."
"OK: Pollyana, it sounds like next year's ski-mountaineering race is a punishing event that will seriously test your mind and body. What inspired you to attempt it?
PW: The simple answer to that is, I was asked! The Royal Marines had the idea to take a few female celebrities on the race with them, and create three separate teams, to help raise funds for their charity. I guess they got the idea of asking me because I'm always taking on challenges.
"OK: Bernie, what's your involvement in the race with Pollyana?
BS: I'm an ambassador for the Royal Marines, who have a charity – the C Group – which was set up to help guys who have been injured and maimed in action, and to help their families. Pollyana has very kindly offered her services to take part in this extreme challenge, the Patrouille des Glaciers, which is a really hardcore event.
"OK: Bernie, tell us a bit more about the race…
BS:The race is 53km long, and it's got military origins, dating back from when the Swiss Army used it to train their mountain troops for the Second World War. Now it takes place every two years and it's open to civilians. We're in teams of three – one girl with two marines in each team. Pollyana will be with me and another former colleague of mine in our team.
"OK: What will be Pollyana's toughest challenge doing the race?
BS:Endurance. The physical and mental side of it is going to be really tough for her. There are lots of factors that will go against you. Your altitude, for a start – you're up and down close to 4,000m. The ascent we'll be doing, by the end of the event, will be the equivalent of going up half of Everest. We're still going to try to do it in between ten and 11 hours.
"OK: What are the biggest dangers of the race?
BS:Because of the extreme conditions you're in – we're not going for a walk in the Lake District! – we'll be up in very remote areas, so we've got to deal with things like crevasses and avalanches. Each team member has to carry an avalanche transponder, in case an avalanche kicks off, and we'll also need to take search poles, a snow shovel and a survival kit.
"OK: Pollyana, aren't you filled with trepidation about the whole thing?
PW: I suppose I should be. Back in the '80s they closed the race for a while because two people died doing it! It's something that I know will push me to my limits. This will take me to the edge and to a point where I'll probably think my body is about to collapse and I can't go on, but I want to do it, because I've never done anything like it. It's also for such a good cause, the Royal Marines, and it's one of those lifetime achievements.
"OK: What training are you doing?
Bernie: Pollyana's been going to the gym to get her basic condition of fitness up. Now she's moving into doing mountain biking and coastal walking, while carrying a load. We've found some really steep coastal paths on cliffs where she's been hiking in Dorset. She'll tell you it's a bit different from working with your personal trainer in the gym!
Pollyana: I've got a fantastic mountain bike that I've been lent until the actual race, which means I can do trails near where I live in Surrey. The most important thing for this race is that I have the strongest leg muscles possible, and that my back and arms are conditioned as well. When I'm in the gym I make sure I do at least two and a half hours of everything. I don't have a life at the moment!
"OK: Won't the race will be extremely stamina-draining, and tough on your energy levels?
Bernie: Pollyana will be burning about 1,000 calories an hour. So anything between 7,500 to 10,000 calories will be burnt up during this event.
Pollyana: So we'll have to take a decent supply of Krispy Kremes!
"OK: Bernie, you sound like the ultimate action man – how would we describe your job?
BS:I'm a performance coach. I specialise in preparing high-end athletes, but I also do stuff with corporate people, because of the discipline in my background as a special forces guy. I'm a former member of the Royal Marines Special Boat Service. I've also been an international athlete in a variety of sports. I won Survival Of The Fittest three times in the UK, and was runner-up in the world competition.
"OK: Pollyana, won't your family be on pins worrying about you doing the ski race?
PW: No! I jump off bridges for fun on The Gadget Show! I race dragsters! My mum and dad watch me on The Gadget Show and go: 'Are you still in one piece?' The great thing is they see the challenges I do after I've done them, so there isn't really that jeopardy there. Sure, there have been a couple of hair-raising moments where there could have been issues or real injuries – I have been run over by a hovercraft, which was fairly dangerous! I was sat on a jet-ski in the sea and just out of nowhere the hovercraft came up and knocked me for six! I was limping for three days after that.
"OK: What's been your most dangerous moment while driving?
PW: We had a drag car that we'd built for a power tool race, but the geometry of the car wasn't quite right, so when I took it up to speed, the wheels started to wobble, and it was suddenly running on just two wheels! And we'd not realised at the time, but we'd not built in a seat belt. So I came out of that, doing 50mph, wearing only a helmet. Luckily, I was okay. It was one of those moments you don't want to think about it!
"OK: Bernie, do you have any other exciting adventure challenges planned?
BS:In February 2013 I want to try to do the Yukon Arctic Ultra Marathon, which is an extreme cross-country race. No one's ever finished the 430-mile course on cross-country skis. The last 100 miles is up hill, and that's what does people in. It takes between 12 and 14 days, and I want to be the first guy to do it. I don't have many more challenges left in this old body, but I've still got it mentally, and that's the key thing.
"Pollyana, what's been your biggest challenge recently on The Gadget Show?
I've had a challenge this series where they gave me eight weeks to learn to play golf. So my life at the moment has been work, gym and golf! I can't tell you what my golf handicap is – you'll just have to watch The Gadget Show on December 12.
"OK: Do you have a boyfriend?
PW: Yes. he's Paul Casey – and he's a professional golfer! We've been friends for quite a long time, and we've only just started dating.
"OK: Bernie, tell us about your loved ones…
BS:My wife is Kim, whom I met when we were 15 and 13, when we were at a running club. We have two children, Gregg, 20, and Danni, 17. Gregg is trying to make it as a cyclist. Danni is studying media and graphic design. She does triathlons as well, so she's a good sportswoman. It runs in the family.
"OK: Does Kim get worried when you disappear on your many perilous adventures?
BS:Marrying a guy who's been in the special forces – and having to cancel your honeymoon because I got sent away somewhere – she's used to putting up with the monster that the job entails. She does worry why I do these things, because I'm not young any more – but it keeps you young. The thing that gives up as you get older is your body – it can't take the hammering any more!"
Have an enquiry?
Send us a message online and we'll respond within the hour during business hours. Alternatively, please call us our friendly team of experts on +44 (0) 20 7607 7070.
Speakers Corner (London) Ltd,
Ground and Lower Ground Floor,
5-6 Mallow Street,
London,
EC1Y 8RQ