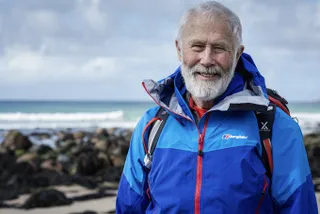 Climbing Everest the Hard Way | A Q&A with Chris Bonington
We interviewed explorer Chris Bonington to find out about his corporate speaking career.
How did the corporate speaking start?
After I led the successful Everest South West Face Expedition in 1975 a company called Roundel (I think) asked me to do a big key note for a major IBM conference in Nice. It was multi-screen dozens of projectors to around 1000 sales people. I told the story of the biggest climbing expedition to the greatest challenge ever to leave this country – it was about leadership, teamwork, resilience, focus and everything that enables a company to achieve success.
If you could speak at any event, past or future, what would it be?
At a main plenary session at the World Economic Forum at Davos (I've spoken at a fringe do) on leadership, courage, integrity, sustainable growth and looking at the long term.
Are you as happy speaking to 50 as to 1,000 people?
I've spoken to eight board members of a public company during a two-day brain storming session and 5000 sales people at a sales conference – I think my message is equally valid for either though obviously, my approach and pace are different.
How do you like to be introduced?
Briefly, emphasising that as well as being a cutting-edge mountaineer, I am a skilled organiser and have taken these skills into ground level business and organisations both as non-exec chair of Berghaus and many non-profit making organisations such as the British Mountaineering Council, Campaign for National Parks and Lancaster University.
What are the most asked for topics?
Teamwork and leadership, especially in difficult and tough circumstances.
Is your speech interactive with audience participation?
One of my presentations – climbing Everest the hard way – is and this is the one that I enjoy giving the most – but it needs at least two and a half hours – and the time races by!!!
Do you have any funny/embarrassing speaking anecdotes you care to share?
I did the Harrogate Literary Luncheon a few years ago with Jeffery Archer and Jilly Cooper – we each had to do a fifteen minute after lunch talk. I was the last and my colleagues were both very funny. I was quite nervous as this was my first Ladies' Luncheon Club. I'd just got back from our first attempt on the South West Face of Everest, which developed into a ferocious epic in temperatures down to -40ºC and winds of 80mph.
I know that people are always intrigued by how you relieve yourself in these circumstances but never like to ask and I had a particularly embarrassing experience at our top camp at over 8000 metres, when by mistake I did the business into the upper part of my one piece down suit – I only realised my mistake when it appeared out of my sleeve as I thrust my arms down the sleeves to save myself from frost bite. It froze instantly and I had to chip it away from the inside of the sleeve in the freezing cold before crawling into the tent which I was sharing with one of our Sherpas, who was promptly sick. I thought it could be quite a good story and I've raised some good laughs at climbing functions since, but the Harrogate Ladies did not appreciate it, and it sank like a stone!!
Favourite book?
The book was brilliant too, but War and Peace by Tolstoy is special to me. I have always been fascinated by military history and historical novels and this book encompasses it all – superb characterisation, and a wonderful picture of the culture and battles of the time.
Favourite holiday destination?
The Moroccan Anti-Atlas – masses of superb unclimbed sun kissed rock, to which a little group of us have been going for twenty years putting up new routes.
Country or townie?
I was born in London but have lived the last 40 years in the Lake Distrct and definitely regard myself as "country".
Newsletter Sign Up
If you liked this article then why not sign up to our newsletters? We promise to send interesting and useful interviews, tips and blogs, plus free event invites too.
Have an enquiry?
Send us a message online and we'll respond within the hour during business hours. Alternatively, please call us our friendly team of experts on +44 (0) 20 7607 7070.
Speakers Corner (London) Ltd,
Ground and Lower Ground Floor,
5-6 Mallow Street,
London,
EC1Y 8RQ