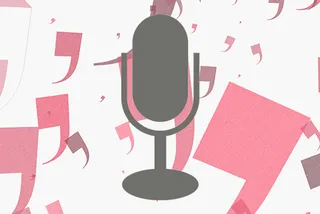 An Interview With Gethin Jones
Who would you most like to share a platform with?
There are so many great people I admire and enjoy watching! I'm always picking up good ideas and tips.. Rob Brydon, seen him do a few thing - pure class. Andrew Cotter and Di Doherty, I would love to work with Amanda Byram and Jenni Falconer..and many others!
How did the corporate speaking begin?
I don't actually remember! My first live audience was performing a violin solo at St Davids Hall in Cardiff in front of 2,000 people! I think I was 11! I remember being a little nervous to say the least, but more excited. I was well prepared, and whilst the nerves have diminished over time, the preparation hasn't! Developing a profile on camera led to corporate speaking opportunities. There's nothing quite like a live audience, its probably one of my favourite parts of my job!
Which event has been your favourite and why?
One of my favourite nights was interviewing 4 of our successful Olympians at the Grosvenor House in London for the British Olympic Association. There were 1,600 people there, it was loud and a tough crowd. I could tell that my mate next to me was nervous for me! Despite being nervous myself I knew I was prepared, and its a subject I'm passionate about. It was brilliant, you could hear a pin drop. In fairness, the 4 Olympians were pretty inspiring.. but there was still a job to do!
Why do you love being a speaker?
I think it's the flexibility. I know I bang on about preparation, but the more I do, the happier I am going on stage. In 95% of the events I've done, what I've prepared for an opening hasn't been used! Whilst I'm fortunate to get many corporate speaking opportunities, I only do the ones I feel I can do a really good job for. I love the preparation and the research which helps, I always make sure I know who the audience are to prepare the best material and then it's time to relax and enjoy!
If you could speak at any event, past or future, what would it be?
It would probably be within the wonderful charities I'm associated with. I've filmed in Iraq and Afghanistan 3 times. I will be launching the poppy appeal at the end of Oct for the second time.. I can talk for hours about the wonderful work out Armed Forces do, and the situation out there. I work with children's hospices and autism too. One of the privileges that comes with what I do for a living, is helping others.
What do you do to ensure your presentation has a lasting impact?
To not set out with the goal of making a lasting impact! I'm not a stand-up comedian, but I really enjoy finding the comedy within the evening/event. I have been blessed to travel extensively and done some amazing things. My friends say I will be one of those really boring Grandads! "Story time!". So I tell stories rather than jokes!
What can a typical corporate audience learn from your experiences?
I've done some amazing, weird and wonderful things. I've been blessed to do a variety of things. I have grade 8 violin, grade 7 piano, I played sport at a professional standard, and with some of the best players in the world. I also did a little dance show on the BBC.. My agent and I always enjoy seeing the offers that come through… they are always varied and an interesting challenge.
What's your biggest achievement this year?
There are a few things in the pipeline that could change my answer to this! But we did win and RTS award for "Remembrance Week" on BBC1 this year. Only 2 of us go to Afghanistan to film it, the most brutal conditions to work in, and we were up against some really great programmes. I've never been one to dwell on awards.. but it was a wonderful feeling to be recognised - and more importantly, another opportunity to thank out Armed Forces publicly.
What's your favourite way to spend a Sunday?
I've not really known what a "sunday" for the past 12 years, such is the nature of the job! I sometimes have a Sunday on a Monday, or a Thursday! But Sunday makes me think of a roast at home in Cardiff, with my 2 nephews using me as a trampoline on the sofa!
What personal ambition must you fulfil before you die?
I have lots of things I'd like to do work wise, But ultimately? Being a father!
Have an enquiry?
Send us a message online and we'll respond within the hour during business hours. Alternatively, please call us our friendly team of experts on +44 (0) 20 7607 7070.
Speakers Corner (London) Ltd,
Ground and Lower Ground Floor,
5-6 Mallow Street,
London,
EC1Y 8RQ