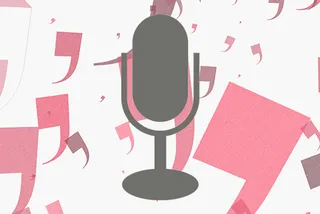 An Interview with Kate Sturgess
What's been your most challenging live hosting experience?
Probably, co-hosting one of my first ever conferences. In addition to the main event location, there were 4 other audience locations, 3 one-way satellite links and 2 two-way links. So, all in all, a pretty big show! I was highly fortunate in that I was not the main host so was able to watch and learn from that lovely guy, Nick Ross. It was a pivotal conference: where do YOU (the audience, our workforce) think we should be heading? Vote now please … At which point, I could hear the director in our earpieces telling us the main computer had gone down and he wasn't sure what we'd be going to next. I was having heart failure. Nick didn't bat an eyelid but carried on, smoothed things over, picked up the pace and the entire event without missing a beat. That taught me a huge amount about what we are there for: not for when things go right, but for when they go wrong. Thank you, Mr Ross!
How did you get into presenting?
Pretty much by accident! I had been working as a model and was offered a slot on a cable channel presenting a show called 'BodyTalk'. I loved it (although I'd hate to watch an episode now!) so I then applied for a job at Central TV where I learned everything from 'cable bashing' to producing and it all went from there really … Every time someone asked me if I do something, such as host a live event, or a conference; record a voice over film a documentary, I'd say: 'Why not? Yes please! …' and twenty-something years later, I'm still saying the same thing.
Which event has been your favourite and why?
Oooh – difficult one! On balance, I think it was one in Toronto when I was the evening 'turn'. Delegates volunteered to be in a quiz show, hosted by me, which was based on 'The Weakest Link', although before they walked on stage in the evening, they thought it'd be a low-pressure pub-quiz affair. It wasn't. I was allowed to get into full Anne Robinson mode and give them seven shades of off-the-cuff sarcasm. So, unlike the day-to-day me and I had a ball. I'm sure they enjoyed it too. In the end…
Why do you enjoy being a host?
Love the challenge, love the buzz, love meeting new people, new businesses, seeing new places and most of all, that feeling when it's all gone well and you step off stage at the end of the gig.
Who would you most like to share a platform with?
Graham Norton. I think he's an enormously talented communicator with a wicked sense of humour who makes the job of getting the best out of others appear so easy. To share a platform with him would be a riot!
What was your highlight of the last year?
Being invited to take part in a programme on Radio 2 about dementia care: it's a subject very close to my heart as I cared for my Father with the disease and was hugely helped by a charity called Contented Dementia Trust. The charity teaches people how to understand what dementia IS in terms of how it affects someone's view of the world and importantly, what you can do to alter your behaviour to reassure and help that person's world become a much less frightening place. I was contacted by several people after the broadcast to say it had helped them with their own situations as carers of loved ones with dementia. That was rather special.
What's your favourite way to spend a Sunday?
Take my horse out for a wander before the rest of the world wakes up, before heading home for brunch with the papers. Then for a long walk in Whichford woods in Oxfordshire with my husband who can always be relied upon to cook an extremely good dinner to round off the day! (Dear Reader, that's why I married him …)
What personal ambition must you fulfill before you die?
To ride along the West Coast of Ireland. It was one of my Mum's ambitions which she never fulfilled, so it has now become one of mine.
Can you leave us with an inspirational quote from yourself or someone that inspires you?
Sometimes in life you have to jump off the cliff and build your wings on the way down.
Looking to book a speaker? Inspired to put on your own conference? Give us a call for on +44 (0) 20 7607 7070 or email us at  info@speakerscorner.co.uk .
Have an enquiry?
Send us a message online and we'll respond within the hour during business hours. Alternatively, please call us our friendly team of experts on +44 (0) 20 7607 7070.
Speakers Corner (London) Ltd,
Ground and Lower Ground Floor,
5-6 Mallow Street,
London,
EC1Y 8RQ