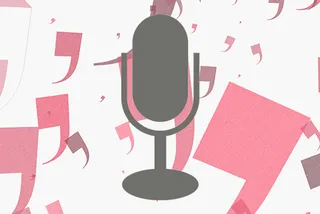 An Interview With Kirsty Lang
How did you get into facilitating?
As a TV and radio presenter, the bread and butter of our job is to get the best and most interesting answers out of people. You want to minimize the jargon and the waffle and make sure they get to the point to make the event as interesting and relevant as possible to the audience. It's not about me it's about making the participants look as good as possible.
What's been your most challenging live experience?
I once did a 3-day conference for a big computer firm in Amsterdam where 80 percent of the panelists talked entirely in jargon and acronyms. It felt like running a conference in a foreign language. But as a journalist, I'm used to getting up to speed very quickly with areas I don't know so it worked out in the end.
Which event has been your favourite and why?
I have twice chaired the Eurostudies conference in Paris in front of an audience of 900 sixth formers who can be a hard crowd to please. The speakers are from politics, business and law. I have to keep them short and clear and moderate question and answer sessions from sharp-witted if inexperienced youngsters.
Why do you enjoy being a facilitator?
I like interacting with people and when a conference really comes together you get a good buzz. As a journalist, I'm naturally curious and it's always fun to meet people from different fields. I've facilitated conferences on subjects including health care, the pharmaceutical industry, tech, education, sales, human resources, outsourcing, urban planning, publishing, foreign affairs and the arts and each time you get to plunge into another world and have to make sense of it.
What's your favourite way to spend a Sunday?
Reading newspapers, eating a roast lunch at a country pub followed by a nice long walk.
What personal ambition must you fulfill before you die?
To see as much of the world as possible and read all the books on my shelves.
Can you leave us with an inspirational quote from yourself or someone that inspires you?
"The secret of joy in work is contained in one word – excellence. To know how to do something well is to enjoy it." Pearl S. Buck
If you are interested in booking Kirsty Lang for your live event or require any additional information regarding Kirsty Lang then please fill in the enquiry form and one of the Speakers Corner booking agents will contact you within 24 hours.
Have an enquiry?
Send us a message online and we'll respond within the hour during business hours. Alternatively, please call us our friendly team of experts on +44 (0) 20 7607 7070.
Speakers Corner (London) Ltd,
Ground and Lower Ground Floor,
5-6 Mallow Street,
London,
EC1Y 8RQ