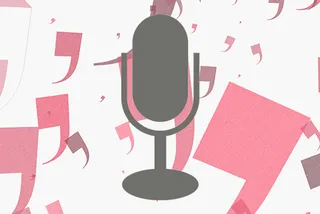 An Interview with Natasha Kaplinsky
Who have you heard speak that has left a lasting impression?
There are many people who are really special and inspirational. It is usually the charity events that really touch me and I have to struggle sometimes not to let that show too much.
How did your corporate presenting work start?
Actually, I started to work on the corporate scene long before I worked in broadcasting – so I guess it is where I learned the tricks of my trade.
Can you remember your first live presenting gig?
Gosh no - it was centuries ago!
Which live event has been your favourite and why?
I have been lucky enough to be involved in all sorts of amazing live events, from performing on Strictly Come Dancing, to hosting the BBC's New Years Eve Coverage, VE day celebration, and countless news bulletins. They have all been special in different ways and I feel it a real honour to do what I do for a living.
Which presenter to you most admire and why?
Every presenter brings something different to their job, I admire each of my colleagues for their unique skills and try to learn from all of them.
Who would you most like to share a platform with?
I find it very humbling to share the platform with every day people who have done amazing things. Whether someone has won an award for bravery, or commitment, or just because they are the very best at what they do, that is what I find most impressive. Sometimes when I host award ceremonies, the winners come on to the stage and they are shaking with nerves. I love those moments because I feel like I am involved in one of the best days of their lives.
On average, how many corporate events do you do a year?
It totally depends. Sometimes two a week and other times one a month. I love doing corporate jobs as it is a real chance to interact with people. Most of what I do is in the rather sterile environment of a studio, so it is always lovely to actually meet people!
Do you prefer an audience of 50 or 1,000 people?
It makes no difference to me. My performance has to be spot on whether it is for five or five million people.
How do you like to be introduced?
Not with the Strictly theme tune.... after all these years being attached to the show, there is an expectation that I am an amazing dancer. (Which of course, I no longer am!)
Do you always like to do a briefing call before the event?
I do prefer to speak to the client as I feel it is a chance for me to really understand their hopes and expectations for an event. I often feel that clients are also reassured by a briefing call or meeting as they have a chance to ask me questions and it gives me the chance to reassure them that I know what I'm doing.
Do you have any funny/embarrassing presenting anecdotes you would care to share?
Yes. Too many to recount here... but I do include them in an introductory speech if an event organiser so wishes.
What do you feel you bring to an event?
For conferences and speaker events, I bring calm, authority and experience. For galas and award ceremonies... I can bring a bit of sparkle and glamour.
Do you have any particular requirements such as autocue to facilitate or host an event?
Autocue always makes and event look much more silky, but if there isn't the budget for autocue, I am perfectly happy.
What's your favourite film?
Usually the last one I have seen. I love the cinema more than anything - it is my biggest treat - especially in the afternoon!
What's your favourite book?
I read a lot and so I couldn't possibly choose.
What's your favourite holiday destination?
Anywhere with my family.
Looking to book a speaker? Inspired to put on your own conference? Give us a call for on +44 (0) 20 7607 7070 or email us at  info@speakerscorner.co.uk .
Have an enquiry?
Send us a message online and we'll respond within the hour during business hours. Alternatively, please call us our friendly team of experts on +44 (0) 20 7607 7070.
Speakers Corner (London) Ltd,
Ground and Lower Ground Floor,
5-6 Mallow Street,
London,
EC1Y 8RQ