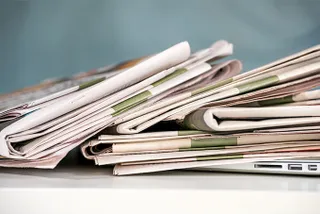 Ben Fogle and James Cracknell row across the Atlantic
Ben Fogle  and James Cracknell had got a lot of press attention prior to the race when they explained they would have to row naked to avoid chafing from clothing, and after the race Fogle told BBC Breakfast: "The area of the body that is affected the most is the bottom.  Both James and I are walking around everywhere with a special pillow for everywhere that we sit."
Their capsize occurred about 700 miles from the finish.  "An enormous rogue wave caught the back of the boat and flipped us upside down," said Fogle. "I basically found myself bobbing up and down in a sea with waves bigger than houses."
The capsize also saw Cracknell awake upside down in the tiny cabin of the boat, Spirit of EDF Energy.
The first-placed crew, from Devon and in a boat called All Relative, set a world record time of 39 days and 3.32 hours when they finished on 8 January.  Atlantic 4 finished five hours ahead of Cracknell and Fogle in 49 days, 14 hours and 21 minutes.
Have an enquiry?
Send us a message online and we'll respond within the hour during business hours. Alternatively, please call us our friendly team of experts on +44 (0) 20 7607 7070.
Speakers Corner (London) Ltd,
Ground and Lower Ground Floor,
5-6 Mallow Street,
London,
EC1Y 8RQ