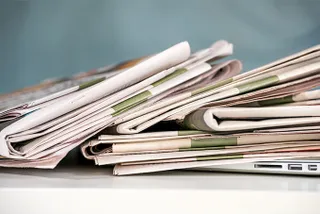 Could Minecraft Actually Be Good for Children?
In Technology News , gaming phenomenon Minecraft makes the news yet again with reports that it could help children to build brain cells.
To those born before 1994, Minecraft may be somewhat of a mystery; glimpses may be caught over the shoulders of your, or your friend's, children as they intently lock their gaze with the tablet screen, but what is it all about?
For those not in the know, it allows users to build and explore a virtual world that has the rather retro appearance of Teletext colliding with Lego . There are no goals as such but there is an achievement system with 'construction' being the core aim of the game.
A scene from Minecraft
For children of the 80s, this is somewhat troubling development in gaming as there are no invaders, no aggressively flashing ghosts, no need for any overt combat or highly skilled kung-fu manoeuvres (therefore no bloody finishing moves) nor any fast approaching logs, asteroids or oncoming vehicles for that matter; it is simply creative and constructive.
Stephen Shackland, writing for CNET, says the constructive aspect of the game allows children to create new objects and processes within the game and 'Along the way, Minecraft's young players learn things like computer coding, engineering, architecture, urban planning and math'.  The full article can be found here.  Whether these claims will ever be backed up with a more focused academic enquiry remains to be seen but it does pose some very interesting questions indeed. Is it the new virtual interactive lego, allowing children to create without barriers? Or is it just another game taking up too much attention at the expense of physical activity? The discussion will continue for sure, and with new oners Microsoft wishing to recoup the 2.5 billion dollars they paid for the game, you can expect this phenenomen to build, and build some more.
Have an enquiry?
Send us a message online and we'll respond within the hour during business hours. Alternatively, please call us our friendly team of experts on +44 (0) 20 7607 7070.
Speakers Corner (London) Ltd,
Ground and Lower Ground Floor,
5-6 Mallow Street,
London,
EC1Y 8RQ