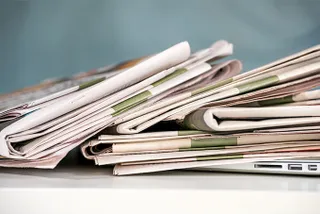 Darren Campbell Supports Anti-Drug Campaign
Darren Campbell , motivational speaker and Olympic gold medallist, tells Brian Viner at the Independent why he's supporting the 'Be There with Team 2012' appeal, and how he left the sport because of widespread drug-use.
Campbell opens up about the first time he was approached to take performance-enhancing drugs, when he was about 20, and about how he was so dismayed by the evidence of widespread cheating in athletics, that he turned his back on the sport for two years, got a job with an insurance company and played semi-professional football.
Eventually he approached Linford Christie about training together, but Christie didn't think he was serious enough about athletics, until he made the 1996 Olympic squad, and in Sydney four years later, won the 200m silver medal. And then he was approached again about growth hormones.
When asked why he said no he replied: "Because my mum had told me that the day I felt I needed drugs to be successful, was the day I should stop. I only fear my mum and God, so that was enough. When you grow up in a council flat watching your mum do three jobs to feed and clothe you, when you listen to her crying at night because of the stress, and then you find yourself earning a good living, in a legal way, you know you're more blessed than you were at the beginning."
Campbell talks about his relationship with Dwain Chambers and why he refused to do the lap of honour at the European Championships in Gothenburg in 2006 with him. "Listen, with Dwain ... people say I didn't like him, but it wasn't that. I wanted him to help the fight [against drugs], to right the wrong, and he didn't. Nobody ever properly asked me why I didn't do the lap of honour. I'd already told the team manager that I wasn't comfortable running in the relay team with Dwain, that if he was going to be in the team I'd be happy to stay at home. He said, 'look, Dwain will only run in an emergency'. Well, we hadn't won a gold medal in those championships; that was considered an emergency. But it didn't feel right to do the lap of honour."
Chambers has since apologised for his transgressions, and Campbell has publicly forgiven him.
"My feelings [about drug-taking] have always been the same," he adds. "At what point does the sport decide enough is enough? People are still saying, 'should it be a life ban, should it be two years?' For me, it's got to be life. You can't rob the sport, then come back to the sport, that don't make sense. It's like working in a bank, and putting money in your pocket every so often. Could you serve a suspension, then go back and work in the bank? Course not."
Have an enquiry?
Send us a message online and we'll respond within the hour during business hours. Alternatively, please call us our friendly team of experts on +44 (0) 20 7607 7070.
Speakers Corner (London) Ltd,
Ground and Lower Ground Floor,
5-6 Mallow Street,
London,
EC1Y 8RQ