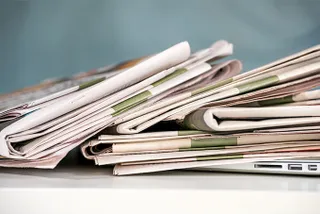 Francesca Martinez Celebrates Being Herself
She's courageous, she's a survivor, and she's hilarious. Stand-up comedian Francesca Martinez  has accepted her cerebral palsy, and after years of being defined by her condition, she has decided to stop trying to blend in, and to celebrate being herself.
In a frank and revealing interview with The Independent, Francesca talk about the period when she wrote her show 'What the **** is Normal?', and how is changed her perception of herself and of how others see her.
Diagnosed with athetoid cerebral palsy at the age of two, her label, and her increasingly wobbly physicality, caused untold damage to Francesca's self-esteem, exacerbated at secondary school, and throughout her time on the Grange Hill set in her early teens.
"On the surface, I still appeared happy, but I was obsessed with trying to be "normal" all the time," she tells The Independent.
Only when she joined a comedy workshop in 1999 did she begin to face her reality. "I wasn't wrong or faulty or abnormal – I was just Francesca. Everyone on the planet is different and that is normal. I was just part of the crazily diverse species we call human."
Living in a world which promotes impossible ideals, Francesca is acutely aware that everyone, even the beautiful people of the world, suffers from body-image problems. It's linked unyieldingly to the consumer society, and the only reason we continue to buy stuff we don't need is due to our inadequacies and the need to feel part of society and to be made to appear 'perfect'.
Francesca feels that by reaching out to her fans, and helping them redefine 'normal', she achieves meaning in her work.
Have an enquiry?
Send us a message online and we'll respond within the hour during business hours. Alternatively, please call us our friendly team of experts on +44 (0) 20 7607 7070.
Related from around the site
Speakers Corner (London) Ltd,
Ground and Lower Ground Floor,
5-6 Mallow Street,
London,
EC1Y 8RQ