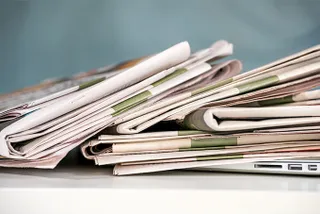 John Roper Wins Construction Manager of the Year 2005
Daisy MacAndrew  (nee Daisy Sampson) Chief Political Correspondent for ITV News presented John Roper with the prestigious Construction Manager of the Year Award at the annual event held at the Grosvenor House, London.
With the Paul O'Gorman Building, John Roper has shown exceptional dedication to deliver a world-class project for the use of cancer research at Newcastle University . He headed up the bid team and was instrumental in putting the bid together, demonstrating an excellent understanding of how the project could be successfully delivered within a challenging, live, inner-city environment.
Right from the start, John knew he had to work closely with the client's design team and stick with their ideas. He immersed himself in winning the tender, where past performance proved instrumental. Sir Robert McAlpine was not the cheapest bidder, but putting John at the helm gave the client the greatest confidence, leading to Sir Robert McAlpine's appointment.
During the second-stage tender development process, John's driven and proactive approach ensured that the lump-sum tender was agreed within the tight constraints of the budget. He led a series of major value engineering exercises to reduce the costs by over 10%. It wasn't about cutting quality – the goal, after all, was to build a flagship structure that would attract world-class scientists and funding.
John was not only responsible for developing the construction planning – after he'd won the bid, Sir Robert McAlpine then appointed him to deliver against it. He employed a variety of programming techniques including detailed resource monitoring to ensure that work kept on track. Employing his own direct workforce of bricklayers, joiners, concreters, partition fixers and others also gave close control over the programme and allowed him to monitor efficiency in great detail and carry out cost/value exercises – an approach subsequently adopted by all McAlpine sites in the region.
He built in quality by introducing holding points in the construction of the zero-defects areas for detailed surveillance to take place, completing any remedial work before continuing. Elsewhere, regular inspections of work in progress kept standards high, with final snagging well in advance of practical completion.
String Fever  provided the entertainment for the evening at the Grosvenor House Hotel.  These talented musicians were an outstanding success - captivating the audience and making the CMYA 2005 one of the most memorable evenings.
Have an enquiry?
Send us a message online and we'll respond within the hour during business hours. Alternatively, please call us our friendly team of experts on +44 (0) 20 7607 7070.
Speakers Corner (London) Ltd,
Ground and Lower Ground Floor,
5-6 Mallow Street,
London,
EC1Y 8RQ