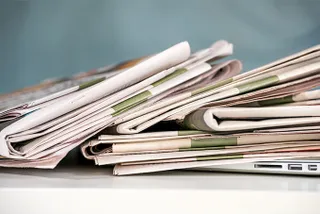 Mariella Frostrup Enjoys Best Decade of Her Life
Arts presenter, conference facilitator and awards host  Mariella Frostrup  speaks to the Mail Online about her desire to present an air of intellect to confound being stereotyped as a 'vacuous blonde'.
Mariella Frostrup turned down ITV's offer to be a sofa pundit for the forthcoming royal wedding. "I have no interest in the royal wedding at all," she stated. "The idea of exposing the British public to the full breadth of my personality isn't a good one."
Norwegian-born, Irish-reared Mariella has always consciously steered her career away from the glitz of showbiz. "I used to routinely turn down things that might compound the impression that I was some kind of vacuous blonde. But now, when I look back, I think I should have done them because I would be very rich – being taken seriously isn't all it's cracked up to be," she jokes.
Mariella's TV career has been successful and varied, and she is also founder of the Great Initiative, a charity working towards gender equality in the developing world.
On the face of it, Mariella has it all – the looks, the family, the career, the high flying husband and the celebrity mates – but none of this has come to her without a hard slog and endless challenges.
"I've worked since I was 16. I spent my 20s earning money, buying a house, achieving that sort of stability. In my 30s I was single on and off and gained a reputation of being a bit wild, which is as inaccurate as my alleged frostiness – yes, I hung out with party people, but I had a father who drank too much so I was acutely aware of the damage it could do. I've never been convinced you can have as much fun after midnight as before – and I was well known for slipping away."
Mariella has become a darling of the Hay-on-Wye book festival. She will be taking The Book Show – on which she interviews authors ranging from political diarist  Alastair Campbell  to historical novelist Daisy Goodwin – to Hay in May, following on from her broadcast from the Bath Literature Festival.
"My 40s have been the best years of my life," says a contented Mariella. "For a start, because of my children. Nothing can prepare you for the all-consuming nature of motherhood, and I am very aware of my good fortune, as I spent years fretting about whether I'd ever meet anyone to have a baby with."
Have an enquiry?
Send us a message online and we'll respond within the hour during business hours. Alternatively, please call us our friendly team of experts on +44 (0) 20 7607 7070.
Speakers Corner (London) Ltd,
Ground and Lower Ground Floor,
5-6 Mallow Street,
London,
EC1Y 8RQ