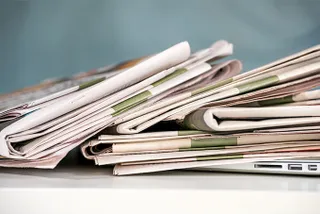 Mary Portas' Knicker Factory
Mary Portas, retail guru and keynote speaker is on a mission to kick start a recovery in British manufacturing with a new TV series, Mary's Bottom Line.
Portas has created the Kinky Knickers brand, and has set up shop at the Headen & Quarmby textiles factory in Middleton, outside Manchester. Thirty years ago, Middleton was an industrial hub with 11 clothing factories. Today, it is riddled with joblessness.
A family firm since 1935, Headen & Quarmby ceased manufacturing eight years ago. Portas says: "I was looking at what we gave away as a country. What we gave away was people, communities, a sense of belonging. The women there said, 'It was like our family, Mary. My mother worked here, my sisters, three cousins over there. When the factory closed it was the worst day of my life.'"
The three-part Channel 4 series is hooked on Mary's frustration at not being able to buy anything British-made.
The programme funded the employment of eight trainees and three staff as they oversaw manufacturing of the knickers for nine months, and contributed to factory overheads. The Channel 4 budget also paid for the initial manufacture of 5,000 pairs of knickers for the trial.
The series demonstrates how Mary re-establishes the factory floor, appoints the trainees, and devises the brand.
So far, orders number 30,000 knickers against a 100,000 target. The list of those whose livelihoods have been turned around include not only the apprentices, but the packaging creators and delivery people… and the pub landlady who hosts the workers on a Friday night.
Portas says: "I could go out into the street and replicate this success 10 times over. We have a real opportunity here. We have, at most, a decade to get manufacturing back on its feet, otherwise all the experienced professionals will be retired, gaga or dead. I wanted to create a place that was about people and a sense of themselves. Bring that back, and the products and the manufacturing will come. What do these people need? They need to be trained; they need a sense of belonging. That's what UK manufacturing's about, not competing with China. We don't need to compete. We can create something else.
"People say manufacturing will never come back, but you can make it come back. Marks & Spencer sells 61 million pairs of knickers a year: all imported. Put a million of those back into the UK. Sort it out!"
When Channel 4 funding ends, the business will operate on the laws of supply and demand.
Have an enquiry?
Send us a message online and we'll respond within the hour during business hours. Alternatively, please call us our friendly team of experts on +44 (0) 20 7607 7070.
Speakers Corner (London) Ltd,
Ground and Lower Ground Floor,
5-6 Mallow Street,
London,
EC1Y 8RQ