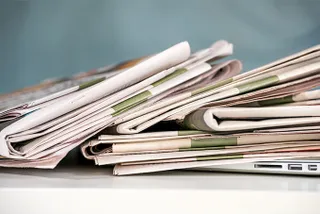 Noreena Hertz on BBC Woman's Hour
Business speaker  and economist, Noreena Hertz appeared on BBC Woman's Hour to discuss her new book 'Eyes Wide Open'.
Noreena  joined Jenni Murray to talk about decision making in the 21st century, in her book Noreena talks about the data deluge and how it has had both a positive and a negative impact on society, making decision making significantly more difficult for us.
On Women's Hour, Noreena stated that research shows that up to a third of consumer reviews are false when asked if she took note of online reviews. The pair also discussed the use of social media, Noreena pointed out that "after checking an email it takes us 22 minutes to get back to the same level of focus you were at before."
Noreena has also appeared on BBC World News earlier this month, alongside George Alagiah . She told George that she wrote her new book 'Eyes Wide Open' due to her own personal experience six years ago when she was very sick. Noreena stated that when she was ill she had to "navigate the terrain of conflicting expert opinions" when she was at her most vulnerable.
She continued to tell George that her experience led her to research decision making and how it is we make decisions; she interviewed some of the smartest decision makers in the world to discover what it takes to make smart decisions.
Have an enquiry?
Send us a message online and we'll respond within the hour during business hours. Alternatively, please call us our friendly team of experts on +44 (0) 20 7607 7070.
Speakers Corner (London) Ltd,
Ground and Lower Ground Floor,
5-6 Mallow Street,
London,
EC1Y 8RQ