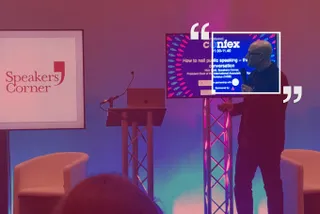 Overcoming Fear and Fueling Success | The Week That Was
This week we were inspired by incredible stories: people overcoming fears, sharing stories of healing and inspiring ways improving life and longevity in it.
From powerful mental health speakers, a neuroscientist, and even our own MD Nick Gold, check out this week's incredible speakers in our weekly addition of The Week That Was.
Laura Hearn
Laura joined us at Speakers Corner to share her journey of recovery from anorexia to how she learnt to heal from the inside. As founder of 'Jiggsy', Laura's platform helps connect people affected by an eating disorder and mental health. An incredibly powerful message delivered by an incredible woman.
International Confex
"Turn public speaking into a conversation. The fear of public speaking will go away."
Our MD Nick Gold joined International Confex to share some tips and stories of how the best speakers define their brand, tell powerful stories, and think about the impact of their talks beyond the event. Between tips on simplifying PowerPoint and speaking with honesty to your audience, we hope the Confex audience turned their fear of public speaking into excitement!
Loyiso Gola
Moe caught Loyiso Gola's show at The Soho Theatre for Pop Culture, a fresh and funny take comedy set that had the crowd roaring with laughter.
Flow Adepoju
At the intersection of beauty and science is Flow Adepoju. A confident, engaging speaker with a wealth of knowledge on the beauty industry and beyond. She shared insights on her journey, entrepreneurialism and the importance of STEM for people that don't even realise that the exciting field of cosmetic science exists! An endlessly fascinating speaker, we walked away looking at the beauty industry with a new eye and curiosity for the future ahead.
Jonathan Overend
Pundit and BBC commentator Jonathan Overend come into Speakers Corner to share his insights on sport, anecdotes from his interviews with legends like Andy Murray, and so much more. Well versed on all sport from Handball to Football, we had fun endlessly quizzing Jonathan and peeking into the what may come during the 2020 Olympics and more.
Daniel Levitin
Lucy saw Daniel Levitin at Soho House for his new book The Changing Mind. As a neuroscientist, academic, psychologist, author of many books and music expert, he spoke about everything from how to age well to the three most important qualities to life and health longevity: curiosity, resilience and conscientiousness.
Newsletter Sign Up
If you liked this article then why not sign up to our newsletters? We promise to send interesting and useful interviews, tips and blogs, plus free event invites too.
Have an enquiry?
Send us a message online and we'll respond within the hour during business hours. Alternatively, please call us our friendly team of experts on +44 (0) 20 7607 7070.
Speakers Corner (London) Ltd,
Ground and Lower Ground Floor,
5-6 Mallow Street,
London,
EC1Y 8RQ