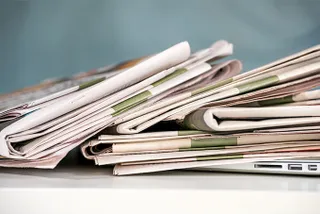 Peter Jones Launches New "Tycoon" Series
Multi-millionaire Peter Jones has selected the six entrepreneurs who will battle it out to win Tycoon: Justin Chieffo; Lauren Pope; Iain Morgan; Helen James & Cathy Caudwell-Todd; Elizabeth Hackford & Tom Thurlow
Based in Tycoon Tower on London's South Bank, they will live and work together with the winning entrepreneur scooping all the profits made by the six companies. Peter Jones says: "This series is a personal challenge and risk for me as well as the entrepreneurs. They've got my mobile number, my email and I've told them I'm there for them 24/7.
"We're all working in the same building, Tycoon Tower, and I'm on their case daily. I even have a webcam so I can see who's working hard."
During the six-week run Peter will be based with the entrepreneurs, investing both his money and expertise in them, pushing them to make big money and to make it fast; He will shut down the companies he feels are failing to make the grade, leaving the others to fight it out for the public vote in the final.
"Tycoon puts my beliefs and business principles right in the public spotlight but I'm determined to succeed," says Peter. "It's a show about people with passion, drive and energy and for one person at the end there is a magnificent reward for succeeding - the chance to own the business they always wanted and the chance of becoming a star."
Layla Smith, ITV's Controller of Alternative Programmes, said: "Peter has been here before; he's created businesses out of nothing and he's lost some too. Now he's making that journey on television with a group of entrepreneurs to shape." Having watched him at work, he's calm, inspirational and focused but he refuses to take excuses and he's expecting all our entrepreneurs to work as hard as he had to when he started out. That's quite a lot to live up to, and watching the story unfold on Tycoon will be fascinating. "
Peter is investing his own time and money into the six potential businesses as he pushes them to maximize both their potential and their profits.
Have an enquiry?
Send us a message online and we'll respond within the hour during business hours. Alternatively, please call us our friendly team of experts on +44 (0) 20 7607 7070.
Speakers Corner (London) Ltd,
Ground and Lower Ground Floor,
5-6 Mallow Street,
London,
EC1Y 8RQ