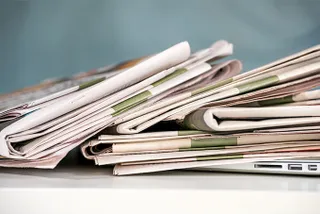 Reality TV making celebrities of entrepreneurs
ONCE upon a time the most a successful entrepreneur could hope for was to make pots of money and buy a lavish home, yacht and plane. Not any more. Dragons' Den, which begins its second series next week, has already made celebrities of its judges. They include Duncan Bannatyne , founder of Bannatyne Leisure, Doug Richard, founder of The Library House, Peter Jones, founder of Phones International Group and former Dragon, Simon Woodroffe , founder of YoSushi.
Bannatyne said his new-found fame had been entirely positive: "It has helped me in business. When I am phoning people I get through much more easily. And going to dinners with famous people and being recognised by them is certainly an advantage. I don't think there is much downside."
Richard added: "After the first series of Dragons' Den my profile rose in the business and financial community, which has been very helpful. Sometimes it gets in the way because people are more interested in the celebrity angle than in doing business. But generally it has been great."
Now Channel 4's new show Make Me a Million promises to do the same thing for its three successful but so far little known entrepreneurs, Chris Gorman, Emma Harrison and Ivan Massow. In the show, which kicked off last week, the three entrepreneurs volunteer to use their expertise to mentor for a year a pair of novices who have a promising idea for a business. The aim is to turn their combined £60,000 start-up capital into a business worth millions.
While the show is undoubtedly good for the protégés, who get a head start for their businesses, on the face of it there is not a lot in it for the entrepreneurs. They have to agree to mentor their protégés for a whole year, they are required to put up £30,000, half the seed capital, and they are not paid any money to do the show.
Fortunately for the show's producers, it seems that even successful entrepreneurs cannot resist the lure of small screen fame.
Danny Horan, the producer, said: "It was really difficult to persuade entrepreneurs to take part because of the time it required. But we managed to persuade them because they all wanted to raise their personal profiles. They are very successful businesspeople and I assume that this comes with some amount of ego."
The entrepreneurs themselves are quick to refute any suggestion that they are in it merely to enhance their celebrity status.
Chris Gorman, a serial entrepreneur who made his fortune from selling mobile phones, said: "I don't want to become the Gordon Ramsay  of business. I like my anonymity at times. But this is a bit of fun and I enjoy it. I like to spend a chunk of my time trying to do something to help others because so many people helped me on the way up."
Emma Harrison, who founded the training company A4E, said she agreed to get involved because she enjoyed mentoring people and hoped that the television exposure would lead to more opportunities to do it.
"If you raise your profile it gives you access to the things you want to do," she said. "I hope that people will be inspired by the programme and because of it I will be asked to do more things to help others get started in business. That is what I love to do and also what I am best at."
There has, however, been an unexpected twist to the tale that may serve as a warning for other successful entrepreneurs dreaming of a swift ascent to celebrity land through the magic door of television. Talking to the entrepreneurs themselves it quickly becomes clear that they have all become totally absorbed in the businesses they are helping to set up, far more than anyone initially envisaged.
Horan said: "At the beginning I think they thought it was a bit of a laugh. But they have all become obsessed by the business they have helped to set up. It has become their next big thing."
Harrison, who is helping her protégés to develop a bed for people suffering from asthma, said: "The business carries on after the show ends. We are having boardroom meetings every two weeks."
And Gorman, whose protégés are setting up a weight-loss company, said: "I am now spending more time on this business than on anything else. I am building a real business that I have an interest in and I am putting more money in."
Make Me a Million is on Tuesdays on Channel 4 at 9pm.
Dragons' Den returns on Tuesday, November 15 on BBC2 at 8pm.
Have an enquiry?
Send us a message online and we'll respond within the hour during business hours. Alternatively, please call us our friendly team of experts on +44 (0) 20 7607 7070.
Speakers Corner (London) Ltd,
Ground and Lower Ground Floor,
5-6 Mallow Street,
London,
EC1Y 8RQ