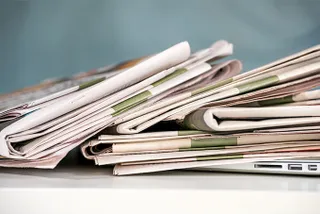 Richard Reed on Innocent Drinks
Business speaker  and co-founder of 'Innocent Drinks', Richard Reed, was recently interviewed about 'Innocent Drinks' and his other project 'Art Everywhere'.
In the interview, Richard  speaks about how the company began with him and two others setting up a stall selling home-made smoothies at a jazz festival in London. They had a sign above their stall which read 'Should we give up our jobs to make these smoothies?' at the end of the day the 'Yes' bin was full and the trio quit their jobs the following week.
Richard and his business partners have never looked back and he stated that "we never imagined that innocent would become what it has." He also pointed out that they were turned down by every major company that they asked to invest in them, until they met Maurice Pinto, Richard says that "without him there would be no Innocent."
The Innocent brand is committed to having a net positive effect on the world and "so far the charitable arm has helped more than 560,000 out of poverty in the developing world." The company is now 90 per cent owned by Coca Cola but is run independently with a home-grown Innocent team.
Richard's other project is 'Art Everywhere', which will see thousands of poster sites displaying 50 of the greatest works of art ever created by this country. Richard is now splitting his time between the Innocent Foundation, Art everywhere, his own Reed Page Foundation and JamJar Investments.
Have an enquiry?
Send us a message online and we'll respond within the hour during business hours. Alternatively, please call us our friendly team of experts on +44 (0) 20 7607 7070.
Speakers Corner (London) Ltd,
Ground and Lower Ground Floor,
5-6 Mallow Street,
London,
EC1Y 8RQ