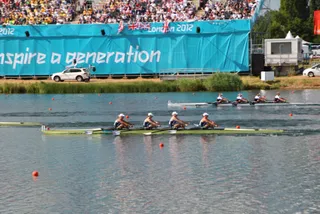 The National Grand Boat Race
Jason Smith
10 April 2015
For those who keep a sporting diary – if it should actually exist – tomorrow, Saturday 11th April 2015 will see two notable and historic events take place with the Grand National at Aintree and the University Boat Race on The Thames with the welcome inclusion of women racing on the same day as the men along the same stretch of the river.
On that last 'historic' point it is incredible that both Cambridge and Oxford have had women's teams since the 1920s (at least) with their first race taking place in 1927. Bizarrely, it was considered 'unladylike' to actually compete together side-by-side so they 'raced' separately with their style on the water being judged by, I assume male umpires, who ruled Oxford - in what appeared to be such a monumental feat of subjectivity - as winners.
It has taken time and such dedicated amounts of effort from women (and some men) to rebalance the gender inequality in this country; not just in sport but in all areas of life. This is by no means a job done and there's still a lot more work to be done with Olympic rower, Cath Bishop, writing recently for us on this very issue in Women's Sport in 2015  while still celebrating at last that "parity comes to one of our oldest sporting national treasures".
Picture courtesy of Wikipedia: Both crews at the end of the 2007 race (Cambridge, left, celebrating)
Clare Balding  who is known for, and started her career in, horseracing has covered the steeplechase since the late 90s. Along with being a trainee National Treasure herself (to some already reaching Full Status) she is a vocal feminist who uses her celebrity for greater causes and ideals including This Girl Can  who encourage women to get into sport and Inspiring The Future who engage with girls to think about their future careers. So when news of women being included on the same day as the men for The Boat Race I am sure Clare was overjoyed but – looking at her sports diary – realised there was a clash with the Grand National.
Given Clare's strong connection to horse racing: her father is a trainer and Clare herself was a leading amateur jockey along with her years of covering the event for TV she was, as The telegraph, reports, 'torn between her passion for horseracing and showing her support for women's sport'. In a decision which can only make us love and respect her even more she decided to host coverage of the BNY Mellon Boat Races. This 'desertion' seen by some however, upset some parts of the horseracing community with Clare responding "For the record, the Grand National doesn't need my help, women's sport does" and adding "I believe that sometimes you've got to do something unexpected to make your point. My point being women's sport matters."
For those at home we do not have to gallantly decide between the two as we are able to watch both on TV and engage in varying degrees of volume on the shouting-at-the-TV scale. At 4.15pm there is The Grand National with its land based equine/small human racing drama that has managed to jump its own fences into country wide discourse and recreational betting; and then at 4.50pm tune into Clare for the somewhat wetter extra-curricular Thames River contest between the (largely) privileged who are managing to jump their own – er – watery fences by making a little bit of history.
Picture courtesy of Wikipedia / Those variable fences
Speakers Corner – not generally known for their heavy and uncontrollable gambling practices – do however engage in a smidgen of sweepstake betting from time to time for the odd major sporting event; I believe the last time for that was the World Cup. So we are having a go with the Grand National (see my earlier comments about recreational betting) with yours truly staring at two grand-national-guide.co.uk  slips of paper on my desk reading Alvarado (20/1) and Chance Du Roy (40/1). What little I know about horse racing is the higher the odds usually reflects where your horse comes first at being last. The other modicum of information I possess however, is that the Grand National is over jumps which in and of themselves up the variable levels considerably to the wildly encouraging status of 'anything could happen!'
Either way the winners are by far the women who've tirelessly worked over the decades and centuries (and continue to do so) in addressing and closing the gender gap which day by day, action by action, are lowering those once wild odds and increasing the likelihood of even money for women everywhere.
Have an enquiry?
Send us a message online and we'll respond within the hour during business hours. Alternatively, please call us our friendly team of experts on +44 (0) 20 7607 7070.
Speakers Corner (London) Ltd,
Ground and Lower Ground Floor,
5-6 Mallow Street,
London,
EC1Y 8RQ