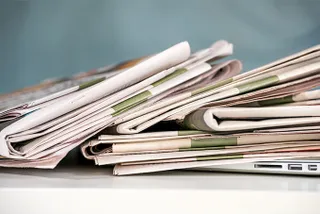 Tim Vine Wins Best Joke Award at the Edinburgh Fringe Festival
At the Edinburgh Fringe festival comedy critics have been busy racing from one show to another in order to catch all the action and 8 judges in particular have sat through over 60 performances – averaging around 3,600 minutes of comedy material – on a mission to select the best jokes of the festival.  Their top 24 jokes were then put to the public vote to determine the final top 10.
The king of one-liners Tim Vine  has come out on top.  He was also favoured last year with his joke "One-armed waiters, they can take it but can they dish it out" but was pipped to the post by comedian Dan Antopolski with "Hedgehogs.  Why can't they just share the hedge?"   However this year he has forged ahead and reigned supreme taking the award for "Dave Joke of the Fringe" with the one-liner "I've just been on a once-in-a-lifetime holiday.  I'll tell you what, never again."  Ironically, Dan received the prize for worst joke this year with "How many Spaniards does it take to change a lightbulb? Juan"
The run-down of the top ten include:
1) Tim Vine "I've just been on a once-in-a-lifetime holiday. I'll tell you what, never again."
2) David Gibson "I'm currently dating a couple of anorexics. Two birds, one stone."
3) Emo Philips "I picked up a hitch hiker. You've got to when you hit them."
4) Jack Whitehall "I bought one of those anti-bullying wristbands when they first came out. I say 'bought', I actually stole it off a short, fat ginger kid."
5) Gary Delaney "As a kid I was made to walk the plank. We couldn't afford a dog."
6) John Bishop "Being an England supporter is like being the over-optimistic parents of the fat kid on sports day."
7) Bo Burnham "What do you call a kid with no arms and an eyepatch? Names."
8) Gary Delaney "Dave drowned. So at the funeral we got him a wreath in the shape of a lifebelt. Well, it's what he would have wanted."
9) Robert White "For Vanessa Feltz, life is like a box of chocolates: Empty."
10) Gareth Richards "Wooden spoons are great. You can either use them to prepare food. Or, if you can't be bothered with that, just write a number on one and walk into a pub…"
The comedian Emo also featured in the worst joke category with "I like to play chess with bald men in the park although it's hard to find 32 of them"  and Sara Pascoe was in the list with her question, "Why did the chicken commit suicide?  To get to the other side."
Tim Vine has been busy performing 'The Joke-amotive' show at the Pleasance Courtyard in Edinburgh and performs as a comedian and awards host.  As brother of the news presenter Jeremy Vine, Tim puts a great deal of time into carefully preparing his jokes – usually in cafes – and always comes on stage with a great deal of energy.  He is a comedian and awards host as well as being a regular on Countdown's Dictionary Corner.  He has also been a world record-holder for the most jokes told in an hour – a staggering 499 jokes in 60 minutes.
Have an enquiry?
Send us a message online and we'll respond within the hour during business hours. Alternatively, please call us our friendly team of experts on +44 (0) 20 7607 7070.
Speakers Corner (London) Ltd,
Ground and Lower Ground Floor,
5-6 Mallow Street,
London,
EC1Y 8RQ