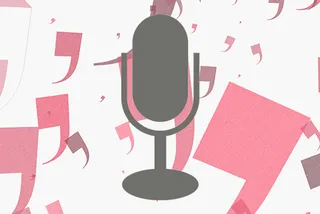 An Interview With Ian Moore
Who are your comedy heroes?
My comedy heroes tend to have very little bearing on my own stand up style, Woody Allen, Peter Sellers, Hope & Crosby, Morecambe & Wise, Ronnie Barker...but a genuine hero of mine is Jim Carrey. I was doing the warm up for the Jonathon Ross Show and as usual pacing up and down at the back of the studio. There was a tap on my shoulder. It was Jim Carrey. "Are you Ian, the warm up guy?" He asked. "Yes." I replied, a little shocked to be honest. "Hey, look, warm up is THE s*******t job in showbiz. Anything happens tonight, take it easy and I'll take over." He did too, and I still got paid. The man's a true gentleman.
As a very stylishly dressed man, what item of clothing could you not leave the house without?
Ah, now I've been asked this before and to be honest, it made me sartorially paranoid, cold sweats and the like. So I had three fire-proof wardrobes especially built to take the ultimate decision out of my hands. They'd survive a nuclear attack these things, with the added bonus that any post-Armageddon survivors would be beautifully turned out.
What is the best thing about living in France?
The best thing is the pace of life. It's slow, nobody rushes about, long meals take a priority and the days gently roll by in a bucolic haze. I was at a French airport recently and the wifi shut down for lunch. That's just how it should be.
What's worst thing about living in France?
The worst thing about living in France is the pace of life, you try getting anything done during interminable meal times when the shops are shut, or in August when the entire puts a sign saying 'Fermé'. I was at a French airport recently and the wifi shut down for lunch! Unbelievable!
How do you like to spend your weekends?
Living two very different lives as I do, I have two different 'favourite' weekends. The professional one is as host at The Comedy Store, the best gig in the world and as MC it's 'your' show, the pinnacle of live stand up in the UK. When I'm not working though it's a rare weekend at home with my wife and children. Come Saturday evening they are watching some emotionally blackmailing 'talent' contest and I'm behind them in the open plan kitchen, toiling away at the coal-face of chutney production, berating them for their poor cultural choices. Sheer bliss, though they'd prefer I was at The Comedy Store.
Have an enquiry?
Send us a message online and we'll respond within the hour during business hours. Alternatively, please call us our friendly team of experts on +44 (0) 20 7607 7070.
Speakers Corner (London) Ltd,
Ground and Lower Ground Floor,
5-6 Mallow Street,
London,
EC1Y 8RQ