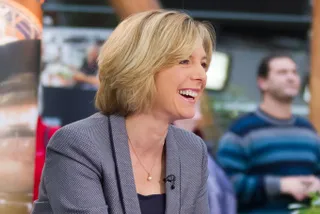 An Interview with Sports TV Presenter Hazel Irvine
One of Britain's most experienced, versatile and recognisable sports broadcasters, we caught up with Hazel Irvine Hazel ahead of our showcase, The Knowledge Guild, which she hosted. We chatted about the Olympics, the success of Team GB and her experience hosting live events.
Hi Hazel. You've led the commentary for some of the most iconic sporting events. What was the atmosphere like at the Olympics in Rio?
Before the Olympics in Rio, it was a little tense because the build-up had been littered with political  difficulties, economic  concerns, and threats of the all-pervasive Zika virus - so there was a lot of tension when we got there.
But, as always happens in my experience (over a very large number of years in sports broadcasting !) being in the moment transcended those fears because a lot of it is born of 'Are we going to do this well enough for the host's country?'
It's certainly been a rollercoaster of a year. How would you describe the legacy of Rio 2016?
In Brazil's case, they did a very good job. I have rarely seen a more beautiful and spectacular stage for the Olympic  Games. I think their legacy in that respect will be an awful lot of people who will want to go see that country and that city for themselves. I thought they were a very good Olympic Games.
There's something really fantastic about seeing every nation on earth  - 207 I think it was at this time - and the youth of the world all standing there on the floor of the Maracanã stadium saying, "This is the best of the physical prowess that we can produce at the time at the Olympic Games" - and, of course, the best of the Paralympics Games was yet to come. It brings everyone together to see what the Great Britain team did in Rio. Nobody thought it was going to be possible to beat the medal count in your own home Olympics four years later! It's something that no country has ever done before, and Great Britain has just been voted as the Olympic team of the year by all the other nation Olympic committees. That, to me, will resonate for a very long time.
A powerful legacy then! How did Rio compare to London 2012?
2012, for me, cannot be beaten in terms of its impact, its significance and the way that it resonated with me personally in the country where I live and have grown up over these years. I think what brings it home to me was commentating that opening night at Danny Boyle's absolutely spectacular opening ceremony alongside Hugh Edwards – that sort of terrifyingly terrific responsibility of conveying what we were seeing, smelling, feeling and hearing in the Olympic stadium that night. We were very lucky because we had seen the dress rehearsal a couple of days before and we knew it was going to be fine. We were in a very fortunate position of realizing that London was going to be spectacular, and I like to think that it has made an indelible imprint on everybody's minds and memories who watched those Games.
Why do you think sporting events around the world such as the Olympics, are so important?
In 2016, there's seldom been a more tumultuous year in political terms that we will live through and, in the middle of it all, there is this one shining event that takes us out of ourselves, out of that gloom. Events like the Olympics actually make us celebrate what we can do and what other people can do. It makes us cry with people; jump up and down with excitement; feel proud about our country. It is really about what we can all do together and to share that moment with everybody else.
What's been your favourite moment during your presenting/hosting work?
It's got to be the 'barefoot water skiing' championships, obviously. No, I'm joking (although that was good fun). I think the big daddy of all the events I do has to be the multi-sports events – the Olympic Games and, of course, the Commonwealth Games. It's like having 28 simultaneous World Champions  all happening. You're trying very hard to juggle and sift through these mountains of information - it's a fantastic intellectual challenge to be there trying to keep on top of everything - so stimulating, so fascinating. Just being there, doing the commentary of the opening and closing ceremonies, sitting in the studios for hours on end, just lapping it all up. It's brilliant - just being out there, seeing Gold medals being won.
2002 -  at the Salt Lake City Olympic Games - I was there wielding my microphone as they all crowded into shot. Rhona Martin and the British curling woman at the Winter Olympics. Keeping us all up late with the slippy shoes and the shouting. It's moments like that, that I always treasure and always look back on as having played a very small part in everybody else's memories of things.
What's next for you?
Next year, 2017, will be my 30th anniversary in sports broadcasting , going back to SCOTT Sports in 1987 (so a long time ago). So I've seen an awful lot in the last 30 years. I've done 14 Olympic Games now, and definitely the high point of my career in broadcasting has been to see the change in where British athletes were all these years ago compare to now. We came home from Atlanta 26 years ago with one gold medal, and we came home this time with 27 – an extraordinary feat! The complete sea change in attitude to Olympic sport and the success rate has been a really fascinating journey for me to witness up close and personally, and that is what I will always remember.
What's next for me is I will be doing generally more of the same, and probably going into other avenues as well, in 2017 - some exciting ones. Things to look forward to will be my snooker , being with my snooker colleagues, and the master's golf  in April. There might also be one or two new directions for me, so I'm looking forward to some new challenges. Watch this space!
Newsletter Sign Up
If you liked this article then why not sign up to our newsletters? We promise to send interesting and useful interviews, tips and blogs, plus free event invites too.
Have an enquiry?
Send us a message online and we'll respond within the hour during business hours. Alternatively, please call us our friendly team of experts on +44 (0) 20 7607 7070.
Speakers Corner (London) Ltd,
Ground and Lower Ground Floor,
5-6 Mallow Street,
London,
EC1Y 8RQ