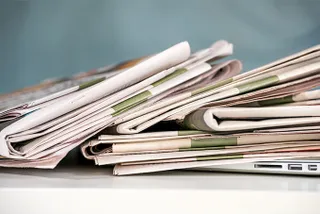 Double Booked? Busy Awards Night in London
It was a busy night of awards last night in London with the British Fashion Industry celebrating its members best achievements of the year along with the Turner Prize for contemporary art.
The British Fashion industry descended on the London Coliseum last night; its red carpet receiving the sharp heels and tailored shoes of some of the fashion world's biggest players along with stars from stage and screen. There was success for house hold names: Victoria Beckham for the Best Brand Award with the MailOnline reporting that David felt she has done 'an astonishing job'; and Kate Moss presenting the award for Red Carpet Designer to Alexander McQueen's Sarah Burton. Continuing this theme Poppy Delevingne, Karlie Kloss and Joan Smalls, were on-hand to award the Model of the Year accolade to younger sister Cara. After a spectacular and well recorded exit from Dior in 2011, a rehabilitated and contrite John Galliano was welcomed back in to the fold when he awarded his long term friend and supporter, Anna Wintour, with the Outstanding Achievement Award.
Down the road on The Thames at the Tate Britain was the Turner Prize Award with their annual event celebrating outstanding exhibitions, or other presentation of a contemporary work, from an artist in the preceding 12 months.  This year's nominees included printmaker Ciara Phillips, who invited people to come and work with her; James Richards, who filmed close-ups of art books in a Tokyo library; and Tris Vonna-Michell for his rapid-fire live performances. It was won by film maker Duncan Campbell for his film It For Others which the Guardian called an "essay film that refers to IRA martyrdom, Marxist theory and anthropomorphic ketchup dispensers as it explores the value of art". Campbell's acceptance speech was anything but lofty delivering a very unpretentious round of thank-you's to his family and supporters adding that the £25K will make a difference being spent on "life stuff … boring stuff...rent and food and studio rent". He said the experience was "surreal... it hasn't quite sunk in yet," but winning was good, it was a "validation." More details can be found on the Tate Website .
Have an enquiry?
Send us a message online and we'll respond within the hour during business hours. Alternatively, please call us our friendly team of experts on +44 (0) 20 7607 7070.
Speakers Corner (London) Ltd,
Ground and Lower Ground Floor,
5-6 Mallow Street,
London,
EC1Y 8RQ