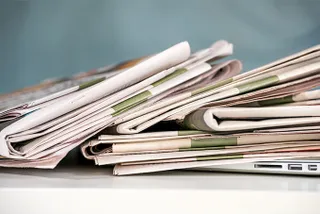 Huffington Joins AOL To Build 'Online Media Empire'
Aol Inc has bought the Huffington Post in the hope that co-founder Arianna Huffington will build an online media empire, reports Bloomberg.
The $315 million acquisition agreement launches 60 year old Huffington into the post of president and editor-in-chief of a newly formed media group. In the position, she'll oversee all of AOL's content, from the TechCrunch blog to the Patch local news sites to new content initiatives.
AOL aims to become a more powerful force in online advertising, but Rob Enderle, a California- based technology consultant, worries the move is a risk, as her political views, often critical of corporations and Republicans, may be polarizing.
"Yes, she's got political views, but gosh, look how political views have worked for Fox," Enderle said in an interview. "There's certainly the opportunity to create a much more powerful liberal voice in the country. The fact that it hasn't been done yet, doesn't mean it can't be done."
Huffington has agreed to a multiyear deal at AOL, though the exact length was not disclosed.
Born Arianna Stassinopoulos in Greece, Huffington moved to England at 16 and graduated from Cambridge University with a degree in economics, according to the biography on her company's website. She became president of the Cambridge Union debating society at 21.
Her book The Female Woman was published in 1974. She later wrote biographies of painter Pablo Picasso and opera singer Maria Callas. More recently, she has written books about politics, including Third World America: How Our Politicians Are Abandoning the Middle Class and Betraying the American Dream.
She took her name after marrying Michael Huffington, the son of a wealthy energy entrepreneur. Michael Huffington was elected as a Republican congressman form California, and his wife became an outspoken supporter of Republican causes. Michael Huffington revealed to Esquire magazine that he was gay in 1994 and the couple divorced.
In the late 1990s, Huffington shifted her support to Democrats. In 2003, she ran for California governor, but lost, and subsequently raised $2 million with New York-based investor Ken Lerer to start Huffington Post in 2005. The website began as a political forum and has expanded to 26 sections, including sports, business, entertainment and travel.
Have an enquiry?
Send us a message online and we'll respond within the hour during business hours. Alternatively, please call us our friendly team of experts on +44 (0) 20 7607 7070.
Speakers Corner (London) Ltd,
Ground and Lower Ground Floor,
5-6 Mallow Street,
London,
EC1Y 8RQ