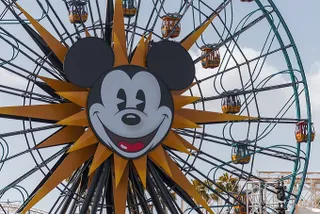 Let Your Imagination Run Wild With Some Disney Magic
If, like me, the news that Disney was remaking all the classics awoke the big kid inside… then this might peak your interest. It was a quiet Wednesday afternoon when I spotted that one of our speakers had a history of working at this iconic brand, and with my love of Disney this immediately caught my eye.
With mouse in hand I went off on a magical journey to see who else we knew in our contacts book, who at one time or another, had been pivotal to the success that Disney had.
Creating masterpieces that appeal to both child and adult, Disney is a world leader when it comes to innovation , creativity, branding  and leadership , to name a few.
Fill your imagination with the possibilities these speakers hold and be inspired by their wonderful stories.
Leveraging his 30 years of global business and consulting experience, Doug Lipp addresses the million-dollar question; What does it take to thrive? Mixing elements of creative and risk-taking teams and leaders, the best customer service and a global perspective is the recipe needed. Doug is an expert on customer service, leadership, change management and global competitiveness and motivates audiences to maximize success. Involved in the fundamental changes at Disney in the mid-80s, one of his most pivotal moments was watching this giant company's culture shift.
The former Vice President for Innovation and Creativity at Walt Disney Company, Duncan Wardle  offers revolutionary ideas and interactive workshops. Duncan's creativity and innovation has been hailed across the world for his work under the Walt Disney umbrella. Duncan is well-versed at sharing innovative strategies to create revolutionary ideas and assists companies as an ideation consultant and change agent. He focuses on the three learning styles: auditory, visual and kinesthetic; which help with creative clarification, but provide the necessary tools to achieve tangible outcomes when approaching challenges in an innovative way.
Developing his passion for service excellence over a 20-year period working for the Walt Disney World Company, as you can imagine, Dennis Snow is an expert in his field. Beginning his career as a front-line attractions operator, he quickly advance through the company, learning and applying the skills it takes to run a world-class, service-driven organisation. Teaching corporate philosophy and business practices to cast members and the leadership team at Disney University, he also launched a division of the company responsible to consulting with some of the world's largest companies.
Rafe Offer  has an incredible story of leading teams and innovation at some of the world's best-known brands including as a Global Marketing Director of Coca-Cola, Director of Global Marketing at The Walt Disney Company and a Director of Innovation for global drinks giant Diageo. You might even recognise him as the entrepreneur and co-founder of Sofar Sounds! Extremely passionate, Rafe covers topics from the fundamentals of marketing, to how to create a company culture that enables breakthrough innovation. Drawing from the major brands and companies he's worked, he emphasises the importance of customer insight with real world examples, leaving audiences inspired.
An expert on leveraging curiosity and creativity for innovation, former Disney Imagineering Executive Bran Ferren, is a technologist, artist, architectural designer, scientist, entrepreneur, and inventor, amongst many other professions. Dubbed as one of the "100 Most Creative People in Business", Bran is a master when it comes to the arts and sciences. After co-founding, co-chairing and Chief Creative Officer of Applied Minds, Bran has enjoyed a distinguished career. Contributing to business and product development, film and entertainment, aerospace and other sciences, his expertise cover a wide range of industries.
Working on some of Disney's most memorable films (The Little Mermaid, Beauty and the Beast, Aladdin and The Lion King), Max Howard  created and ran studios in London, Paris and Los Angeles. An expert in issues facing businesses, including creativity, leadership and marketing, Max is a sought-out consultant in the animation industry and has worked across the world providing first-hand knowledge of how to develop, fund, produce and distribute animated feature films. With a wealth of feature and animation experience, he has a brilliant story and extensive knowledge on the creative processes and business innovation.
Disney's masterpieces inspired generation after generation to believe there was a whole new world waiting to be explored. We're lucky enough, now we're grown up, to discover how your company can innovate, create, lead and develop brand strategies to become an iconic stakeholder in your industry tomorrow. The magic is there, it just needs a little polish or three to come true.
For further information or to book one of our speakers, call us on +44 (0)20 7607 7070  or email  info@speakerscorner.co.uk .
Newsletter Sign Up
If you liked this article then why not sign up to our newsletters? We promise to send interesting and useful interviews, tips and blogs, plus free event invites too.
Have an enquiry?
Send us a message online and we'll respond within the hour during business hours. Alternatively, please call us our friendly team of experts on +44 (0) 20 7607 7070.
Speakers Corner (London) Ltd,
Ground and Lower Ground Floor,
5-6 Mallow Street,
London,
EC1Y 8RQ