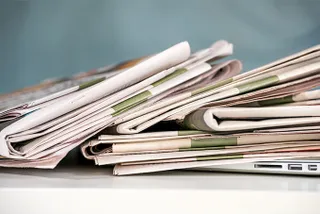 Luke Johnson Talks Business
Luke Johnson , the man behind Pizza Express and knowledgeable and experienced keynote speaker  , talks to Management Today about his mantra: "Stay lean, keep learning".
"Next month I reach my half-century," says Luke. "Overall, it has been a good journey so far, but if I have one regret it is that I have never lived abroad. The experience would have surely broadened my horizons. In the global economy of 2012, you cannot afford to be too parochial - and I sometimes fear that this is exactly what I have become.
"I occasionally think about taking a sabbatical and having an extended break in New York, say, or Hong Kong, perhaps. And, of course, while there I would scout around for business opportunities. But then real life interrupts this daydream: the existence of family, friends, work, home and so forth. Over the years, commitments mount up - and to disappear for many months would involve endless numbers of broken promises.
"But I'm making excuses for my cowardice. I have become far too comfortable here in London, and this is a threat for anyone with ambition. The challenge is to keep learning and, as Steve Jobs said, 'stay hungry' - even if you remain in one place.
"Unfortunately, the British economy is hardly a cauldron of dynamism, and it isn't even as if we enjoy a modest cost of living, while our tax system can't be labelled a huge attraction.
"I have made investments overseas in the past and enjoyed mixed success. On balance, my US engagements - mainly transport and restaurant-related - have probably broken even. In Europe, my various adventures have proved a little more profitable.
"But such diversification has proved to me that cultural, legal and market differences are just a few of the reasons why projects abroad so often fail. The key is probably to have the right local partner - a franchisee, joint-venturer or some such.
"But finding them is a nightmare. One US partner we teamed up with to open a New York restaurant promptly went into Chapter 11 bankruptcy. Another defrauded me. So I tread cautiously - perhaps too cautiously - waiting to meet the right overseas entrepreneurs with whom to work.
"The past six months or so have been some of slowest I can recall in the mergers and acquisitions game. Whether it is public company takeovers, buyouts, IPOs or venture capital financings, the number of corporate transactions has slumped.
"A deadly mixture of zero confidence and negligible bank debt has combined to kill most deals. Few owners are selling unless they are forced - or their company is doing especially well. And, sadly, there are not too many in the latter category. Meanwhile, buyers are exceptionally nervous, and financing is scarce.
"For brokers and advisers, this period of inaction is a disaster. Ultimately, it matters less to them if the deals make or lose money than that they take place. An absence of transactions is deadly. Already, Altium's securities division has shut down. No doubt there will be other casualties, unless the pace of deal-doing picks up.
"Perhaps some good will come of it: more companies focused on organic growth perhaps, and talented executives switching from wheeler-dealing to helping run operations.
"There can be little doubt that the huge concentration of financial services firms in the City of London has encouraged the buying, selling and refinancing of businesses in this country. And much of that frenzied activity distracts management from their core purpose of building an undertaking, while many mergers destroy value.
"So, for the overall good of the economy, perhaps many more intermediaries need to go bust, which might encourage our entrepreneurs to grow the old-fashioned way - which generally delivers a better-quality business.
"Teddy Forstmann died recently of brain cancer, aged 70. He was one of the true pioneers of the private equity industry and did enormously successful buyouts of firms such as General Instruments, Dr Pepper and Gulfstream, earning billions for his efforts. I met him on various occasions and liked him. He was the man who conjured up the phrase 'barbarians at the gate' to describe the new generation of financial buyers laying siege to the corporate establishment - RJR Nabisco and the like. Yet even he decided that too much leverage was a bad idea and retreated from the fray.
"I wonder what legacy he will leave. He never married and had no children of his own, although he adopted two. His firm, Forstmann Little, was effectively disbanded a few years ago - the two other founders predeceased Teddy. IMG, the sport and entertainment marketing business he spent recent years running, is likely to be sold.
"His various philanthropic endeavours have unquestionably made a mark, and no doubt some of the companies he bought and sold improved under his ownership. Yet his passing reminds us that financiers can leave remarkably little in their wake. While alive they may hold great power, but their influence rarely endures.
"Inventors, authors, artists and scientists often fail to receive material rewards for their efforts in life. But, in the long run, the good ones are more likely to have a lasting impact than the tycoons who might appear so important at the time. Usually, their fortunes are frittered away by feckless descendants, and their corporate achievements are reassembled by the next generation of financial engineers. Perhaps this is society's way of evening up the scores."
Have an enquiry?
Send us a message online and we'll respond within the hour during business hours. Alternatively, please call us our friendly team of experts on +44 (0) 20 7607 7070.
Speakers Corner (London) Ltd,
Ground and Lower Ground Floor,
5-6 Mallow Street,
London,
EC1Y 8RQ