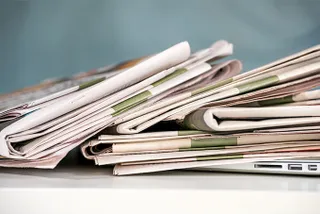 Mary Portas reclaims London Fashion Week
Retail powerhouse and keynote speaker, Mary Portas  has climbed on board the Oxfam  bandwagon to impress their eco-cool factor upon the London Fashion week contingent. Last week the charity shop asked a host of celebrities to support them in their plight to get more people into sustainable fashion.
Today at London Fashion Week in the British Fashion Council tent - and at On|Off in the Science Museum - Mary will be convincing willing journalists, celebrities and models to ditch their carefully chosen fashion week outfit and be restyled in charity shop finds.
She will be aided in her attempt by an unlikely band of fashionistas: members of Oxfam staff from accross the country have been asked to help out at Fashion Week, as well as supermodel, Erin O'Connor and actress Natalie Press. Together this team will showcase Mary's famous styling talents on the day with their charity shop finds.
The event is the culmination of a six month relationship between Mary and the charity sector, during which time she has reinvigorated Save the Children, MIND, Barnardo's and North London Hospice. Like Oxfam, Mary maintains that clothes from these shops, whilst environmentally sound, can also be on trend and more importantly are unique to the wearer.
Mary is widely regarded as the UK's leading authority on retail and brand communication after turning Harvey Nichol's in to a fashion empire. Mary now advises on retail strategy around the world, and also speaks on the themes of retail and branding. To book Mary for your corporate event please call us on +44 (0) 208 356 3200 or email us on info@speakerscorner.co.uk
Have an enquiry?
Send us a message online and we'll respond within the hour during business hours. Alternatively, please call us our friendly team of experts on +44 (0) 20 7607 7070.
Speakers Corner (London) Ltd,
Ground and Lower Ground Floor,
5-6 Mallow Street,
London,
EC1Y 8RQ