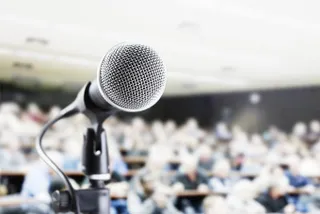 Our Most Popular Speakers In May
We helped deliver over 100 successful events in last month and a few familiar faces kept cropping up. Here are our most popular speakers for May;




Team captain of BBC 2's hit topical panel show Mock the Week, and star of BBC1's hit sit-com Outnumbered, Hugh Dennis also writes and presents Radio 4's award winning comedy The Now Show. Known for his charm and cerebral wit, Hugh is an ideal after dinner speaker and a popular awards host.
"Hugh was terrific on Friday. Please pass on to him our grateful thanks for entertaining everyone so well, in spite of a cold. I heard nothing but very positive feedback from our guests."- Music Publisher's Association
Despite little skill for his sport, Olympic skier Eddie 'the Eagle' Edwards won the hearts and minds of the public with his heroic failures, and is still one of the best-loved athletes today; in fact, his life has been depicted in the biographical film Eddie the Eagle (2016), and he has appeared on likes Channel 4 programme 'The Jump'.
"Eddie is an absolute legend - a great story teller and an inspiration to all people on how to succeed against all the odds. He really went the extra mile to entertain our guests and was very easy to talk too. I would recommend Eddie for any event, epic!"- De Vere Venues
Shappi Korshandi
Since winning the Best Breakthrough Act at the 2007 Chortle Awards, Shappi Khorsandi has established herself as one of the country's finest comedians. Touring the globe, annually selling out her Edinburgh shows, and regularly appearing on panel shows, Shappi is the perfect stand-up comic for awards ceremonies and hosting functions.
Considered 'The World's Great Living Explorer', the inspirational Sir Ranulph Fiennes has been breaking world records, discovering lost cities, and leading legendary (and sometimes life-threatening) expeditions worthy of the Odyssey for over 40 years. A prolific writer, a dedicated fundraiser, and a motivational and keynote speaker on teamwork, leadership, and overcoming adversity, Ranulph has truly tested the limits of human endurance.
"Ran's keynote was incredibly captivating, inspirational and humorous. He did a great job of understanding the audience and was very easy to work with throughout the event. To top it off, it was the first time we have had a standing ovation at this event which speaks volumes."- DABO & Co
Futurist and award-winning speaker, Rohit Talwar inspires and educates with his unique 'how to' messages. He was profiled as one of the top 10 global futurists by the Independent Newspaper.
"Rohit's delivery and content was fantastic; really interesting and engaging throughout. We were really pleased with the extent at which Rohit had researched our company and tailored ideas which were relevant to the audience. Rohit was extremely enthusiastic about the topic and closely followed the brief to match what we were looking for."- Center Parcs
Misha Glenny is an expert on global organised crime and cyber security. Misha has written a string of books on areas such as The Dark Market and How Hackers are the new Mafia, Misha exposes threats to businesses in light of ever changing technology. His enthralling keynote speeches are delivered with passion, humour, and an expert understanding of the minds of hackers and criminals.
"Very polished, kept to the brief and delivered an interesting and thought-provoking speech. Delighted we chose him!"- Erntst & Young
Dubbed 'one of the nation's favourite businessmen' by the Independent, Mark was Managing Director of Waitrose for the preceding 9 years, and Deputy Chairman of The John Lewis Partnership for 3 years. He then joined the UK government as the Minister of State for Trade and Investment at the invitation of David Cameron in April 2016 and was reappointed by Theresa May to her post-Brexit Government, with specific responsibility for negotiating the UKs future trade deals.
6 Steps to Achieving a Happy Workforce: An Interview with Former Waitrose MD Mark Price
June is looking to be another busy month for us here at Speakers Corner and it's always great to hear the exciting new briefs that come our way. We have over 120 events coming up next month with 19 of them falling on Thursday 7th (that's gonna be a hectic day)! Stay tuned for another round-up at the end of June to see who our most sought-after speakers were.
For further information or to book a speaker, call us on +44 (0)20 7607 7070  or email  info@speakerscorner.co.uk
Have an enquiry?
Send us a message online and we'll respond within the hour during business hours. Alternatively, please call us our friendly team of experts on +44 (0) 20 7607 7070.
Speakers Corner (London) Ltd,
Ground and Lower Ground Floor,
5-6 Mallow Street,
London,
EC1Y 8RQ