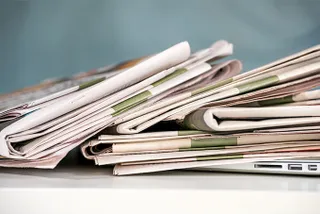 Sir Richard Branson Tops The Entrepreneurs' Rich List 2012
The Sunday Times Rich List has identified those who are battling out the recession – and winning. Management Today has pinpointed the UK entrepreneurs  on the list who are rising through the ranks of the country's wealthiest, and leading the way is Sir Richard Branson.
The highest-ranking British entrepreneur on the 2012 Rich List is Sir Richard Branson. The Virgin boss's international empire encompasses planes, trains, technology, the internet, communications, gyms, wine, music, banking, holidays and now even space travel! His empire is worth an estimated £3.4bn.
Next comes Sir Philip Green and wife Tina with a combined wealth of £3.3bn. His business group Arcadia controls Topshop, BHS, Dorothy Perkins, Evans and Wallis, and his daughter Chloe has just announced a new line of fancy heels: Chloe Green Shoes.
Third is Anthony Bamford whose wealth is due to digger company JCB. The Staffordshire business is now valued at £3bn and Lady Bamford's organic food business Daylesford is proliferating London, and has opened a flagship store in Japan.
Inventor and entrepreneur James Dyson made 5,127 versions of his dual-cyclone cleaner before perfecting the invention. The net worth of his property assets, and the value of his eponymous engineering business, amounts to £2.65bn.
Formula One boss Bernie Ecclestone comes next. In 2000 he sold a 75% stake in the business to German media corporation Kirch which made him £1.9bn, and he also enjoy an annual salary of £4m as CEO of the business.
Frederick and David Bercley run a varied portfolio, including property, retail and media interests, with a combined wealth of £2.25bn. They are best known for owning the Ritz hotel in Mayfair, and their acquisition of the Telegraph newspaper group in 2004.
Sports Direct founder and Newcastle United owner Mike Ashley is worth £175bn, up £482m on last year, and Phones4U entrepreneur John Caudwell is also the proud owner of a Mayfair car park, soon to become an upmarket residential development. Both feature prominently on the list as UK entrepreneurs who have broken through the restraints of an unpromising economic environment.
Have an enquiry?
Send us a message online and we'll respond within the hour during business hours. Alternatively, please call us our friendly team of experts on +44 (0) 20 7607 7070.
Speakers Corner (London) Ltd,
Ground and Lower Ground Floor,
5-6 Mallow Street,
London,
EC1Y 8RQ