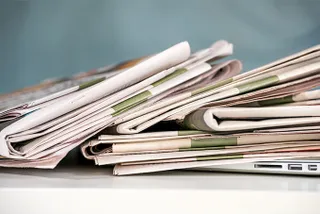 The Sunday Times Business Person of Year - The Finalists
Tough times show who has true grit. The Sunday Times has asked readers to vote on their best leader in 2009, the winners will be announced on December 27th.
If you are going through hell, said Sir Winston Churchill, keep going. This has been the watchword of the tough cookies who have made the shortlist for the Sunday Times annual Businessperson of the Year award.
This year many have made the list simply because they are survivors and have hauled their businesses unscathed through a perilous time.
Below, in alphabetical order, are the contenders.
ANGELA AHRENDTS, chief executive of Burberry.
It has been a tough year for luxury fashion retailers, but Burberry has weathered the storm well — doubling its share price, posting recession-defying figures and pressing ahead with the biggest expansion plan in its 150-year history.
Under Angela Ahrendts it has gone way beyond its trenchcoat roots and become the epitome of British cool. She owes a huge debt to Christopher Bailey, her chief creative officer, who was crowned designer of the year at the British Fashion awards this month, but Ahrendts had the foresight at the start of her reign to give Bailey control of the brand.
ROSS BRAWN, founder of Brawn GP.
One person whose achievements may compare with those of world champion racing driver Jenson Button is his former boss. An unfamiliar name outside grand prix racing, the boss and brains behind the Brawn Formula One team turned an almost defunct team into champions in their first season, which also turned out to be their last.
The team was founded on the ashes of the Honda F1 outfit. When the Japanese carmaker announced it would withdraw from the sport, the business seemed headed for the dustbin. Ross Brawn backed a management buyout weeks before the 2009 season was due to start. The championship entry fee was waived because of Brawn's precarious finances and drivers Button and Rubens Barrichello took big pay cuts. Button secured the 2009 drivers' title, and Barrichello helped secure the constructors' championship.
Brawn GP was later sold to Mercedes-Benz, netting its boss an estimated £35m and capping a remarkable year.
FRANK CHAPMAN, chief executive of BG Group.
It was a year of big finds for Frank Chapman, one of the lowest-profile bosses in the FTSE 100. His oil company has enjoyed an astonishing run of finds of giant fields off Brazil. Rivals such as BP and Royal Dutch Shell spent more than $50 billion (£30.8 billion) between them last year in a struggle to keep production constant, while BG is promising growth of 6% to 8% over the next decade. It may not sound much but, in the world of big oil, it is.
RICHARD COUSINS Group chief executive of Compass.
What do Hampshire's Rose Bowl stadium and the United Center, home to the Chicago Bulls basketball team, have in common? They both handed their catering to Compass this year, part of a string of contracts for the company in 2009.
Richard Cousins has had a good recession. Securing new contracts is part of the story but his real success has been a Scrooge-like attention to costs. This lifted pre-tax profits by a third to £784m, beating analysts' forecasts, with the promise of more savings to come.
Some analysts feared Compass would suffer a drop in trade from business and industrial customers, but the group has more than made up for this in other sectors, such as education, healthcare and sports.
JACK DORSEY, BIZ STONE and EVAN WILLIAMS, founders of Twitter
Phenomenon or fad? That's the question that will grip Twitter watchers in 2010. No other company hogged the headlines like Twitter did this year. The microblogging site set up by Dorsey, Stone and Williams has been hailed as the new Google by some and dismissed as an embarrassing fad by others.
Whatever your opinion, its global army of users dominated news events — from the Iranian election to the death of Stephen Gately, the pop star.
Analysts estimate there will be 18m people on Twitter by the end of this year and the company has been valued at $1 billion. But it is not making money, has no clear business plan and traffic is falling.
STEVE JOBS, chief executive of Apple.
Even in his absence, Steve Jobs is a presence. The Apple boss spent much of the year recovering from a liver transplant. In January the man who built Apple, lost it, and then built it back up again looked like he was finally on the ropes, quitting the company with health problems. But the comeback kid did it again.
At the end of June, Jobs, returned to work with a bang just as the company's plan to sell applications for the iPhone started to pay off big time. Now the tech industry is awash with rumours of an imminent new product. As yet unnamed by Apple, the device is being called the Tablet by everyone else. Said to be a cross between a netbook and a giant iPhone, it will allow users to surf the web, read books and magazines, and play games. If it proves as innovative as the iPod and iPhone, 2010 could be Jobs's year too.
SAM LAIDLAW, chief executive of Centrica.
In the middle of the stock-market turmoil at the end of last year, Centrica, parent company of British Gas, asked its shareholders to stump up £2.2 billion for a deal that it wasn't quite sure would materialise.
They forked out without demur and Sam Laidlaw duly delivered, paying £2.3 billion for a one-fifth stake in British Energy, the French-owned UK nuclear-power company.
Investors were happy to hand over the cash because they believed in Laidlaw's strategy — to increase Centrica's ownership of energy supplies, rather than leave it as a middleman to be buffeted by volatile market prices.
The nuclear deal should give Centrica a steady supply of electricity and its £1.3 billion purchase of Venture Production later in the year has given it access to gas.
ALAN MULALLY, chief executive of Ford.
Many pundits thought Ford the most likely of the big three Detroit carmakers to go under when Alan Mulally joined in 2006. The former Boeing engineer has turned the tables, with Ford the only one of the three not to have to rely on handouts from Washington this year to stay in business.
As GM and Chrysler went into Chapter 11 bankruptcy protection, and came out thanks to government loans, Ford stayed well clear and started to make genuine profits despite a depressed car market.
Mulally also showed a canny eye for a deal, selling Jaguar Land Rover to Tata just before sales of luxury cars collapsed.
KATE SWANN, chief executive of WH Smith.
When Kate Swann took the top job at WH Smith in 2003 the City thought she was mad. The company was regarded as one of those retailers you wouldn't invent if you started from scratch. It was seen as a jack of all trades but master of none, selling an odd mix of CDs, books and magazines.
Swann, who started her career as a Tesco graduate trainee, quickly proved the naysayers wrong. She put WH Smith on a strict diet of cost cutting and reduced the selling space devoted to low-margin entertainment products such as CDs and DVDs. She then expanded the group's travel division, putting more shops into hospitals, airports and train stations, where customers pay more for impulse purchases.
The results have been astonishing. Pre-tax profits have soared from £17m in 2004 to £82m this year and earnings per share have ballooned from 9.8p to 41.3p.
WH Smith shares have more than trebled since Swann took the helm, rising 44% since the start of this year.
JOHN VARLEY, group chief executive of Barclays
Nobody believed what John Varley was saying a year ago. The chief executive of Barclays had escaped a taxpayer bailout and pulled off a daring takeover of Lehman Brothers' American investment-banking business, but many in the City thought the bank was simply hiding its problems.
Over 2009, Varley proved them wrong. Barclays is on track for record profits, its bad debts have not been as bad as expected and it has promised to start paying dividends again. It appears Varley was just running a better bank than most of his rivals.
Barclays Global Investors, the fund-management business, was sold to raise money. It went to Black Rock in a deal that reaped much more than most analysts had expected.Since January, Barclays shares are up 80%.
Winners from previous years:
2008 Marc Bolland, chief executive of Wm Morrison
2007 Wendelin Wiedeking, chief executive of Porsche
2006 Lakshmi Mittal, chief executive of Arcelor Mittal
2005 Sergey Brin and Larry Page, founders of Google
2004 Steve Jobs, chief executive of Apple
2003 Sir Ken Morrison, chairman of Wm Morrison
Have an enquiry?
Send us a message online and we'll respond within the hour during business hours. Alternatively, please call us our friendly team of experts on +44 (0) 20 7607 7070.
Speakers Corner (London) Ltd,
Ground and Lower Ground Floor,
5-6 Mallow Street,
London,
EC1Y 8RQ