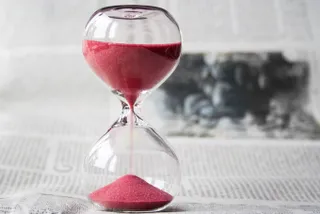 Thinking On Our Feet: Speakers Corner and Short Notice Bookings
Although 90% of the time things go extremely smoothly here at Speakers Corner, sometimes we have to think on our feet.
There are occasions where we have to complete a job at very short notice, whether due to a last minute booking or because of unforeseen circumstances with a speaker.
If something happens, such as illness or a family emergency (heaven forbid), we need to respond quickly. Although this is rare, we are human and need to be prepared!
It is in these moments where the great collaboration in our team really shines.
Our office has all the departments  (Account Management, Marketing, Finance and Logistics) but we each have our own pods. During short notice bookings, Account Management and Logistics work seamlessly together to find a solution.
In a last minute scenario, Account Management work extremely hard as an entire team to come up with new speaker ideas. They throw out suggestions, keeping communication open and flowing. They propose new ideas to the client and check artist availability.
At this time, the Logistics Team are already aware of who has been suggested. They are raring to hit the ground as soon as they are given the green light!
Then, Logistics get started on what they do best: making it all happen. In short notice scenarios, their entire process is expedited. Contracts are sent out ASAP, communication with the artist and client are amped up, and phone calls are used to maintain a sense of urgency.
With exceptional collaboration and excellent communication, processes that usually take 48 hours (contracts signed by both parties, briefing call, all transport booked) can happen in less than 5 hours.
You can imagine the energy in the office during these times! But we pride ourselves on thriving in the madness, and of course, we deal with the chaos so we can deliver a clear and well-organised plan to the client.
Just another day at the office!
For further information or to book a speaker, call us on   or email  info@speakerscorner.co.uk .
Newsletter Sign Up
If you liked this article then why not sign up to our newsletters? We promise to send interesting and useful interviews, tips and blogs, plus free event invites too.
Have an enquiry?
Send us a message online and we'll respond within the hour during business hours. Alternatively, please call us our friendly team of experts on +44 (0) 20 7607 7070.
Speakers Corner (London) Ltd,
Ground and Lower Ground Floor,
5-6 Mallow Street,
London,
EC1Y 8RQ