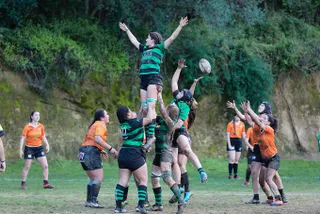 Women's Rugby Stars Smashing The Stereotypes
Equality , diversity  and inclusion  are frequent speaker topics our clients ask us for help with here at Speakers Corner . Being inclusive should never be about box-ticking, it's about unlocking potential and creating a fairer, more productive future.
Turning our attention to the traditionally male-dominated sport of rugby, we gathered four incredible female stars who are smashing stereotypes on the field and beyond.
Danielle 'Nolli' Waterman
Danielle is one of England Rugby's leading lights with over 15 years playing at the senior elite level, gaining 82 International Caps and scoring 47 tries. Her achievements across men and women's rugby are unrivalled, as Danielle is the only player in the world to have played in four rugby world cups – one of which they won – as well as the Olympic Games.
The face of international women's rugby, Maggie  has represented England more than 74 times, helped her country win a record-breaking seven consecutive Six Nations crowns, and was key to the team's first World Cup victory in 20 years in 2014. Maggie faced her challenges head on.
Sarah Hunter
Recognised for her Services to Rugby with a MBE in 2014, Sarah Hunter is a stalwart of English Rugby. Having won the 2014 Rugby World Cup, she has become a leading inspirational role model for the women's and girls' game.
Lee McKenzie
Lee McKenzie is a TV Presenter and journalist for BBC and Channel 4.  She is best known for presenting and reporting on Formula One for both channels as well as rugby.  She has covered the Olympics, Commonwealth Games, Wimbledon, 6 Nations rugby and Equestrian for the BBC. Lee regularly hosts award ceremonies, Q&A sessions and is an accomplished after dinner speaker.
These Women are proven examples of the successes that can be achieved no matter the background, no matter the stereotype. If we can create opportunities that give everyone a fair chance to perform at their best, we can create a future that is not only fairer, but more prosperous and successful.
Newsletter Sign Up
If you liked this article then why not sign up to our newsletters? We promise to send interesting and useful interviews, tips and blogs, plus free event invites too.
Have an enquiry?
Send us a message online and we'll respond within the hour during business hours. Alternatively, please call us our friendly team of experts on +44 (0) 20 7607 7070.
Speakers Corner (London) Ltd,
Ground and Lower Ground Floor,
5-6 Mallow Street,
London,
EC1Y 8RQ