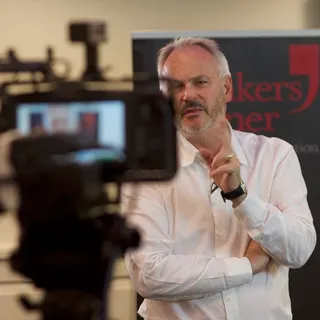 Tim Marshall: Conference Facilitators
The former Diplomatic Editor and foreign correspondent for Sky News, Tim Marshall now brings thirty years' experience in reporting and writing about international news to the corporate circuit as a keynote speaker. Tim translates his political analyses of world affairs into terms that appeal to all audiences - a skill which has contributed to his best known book - 'Prisoners of Geography ' being translated into more than 30 languages and selling almost 2 million copies'.
"An extremely engaging and insightful speaker. His take on current world events was thought-provoking, yet entertaining."
TV Presenters, International Affairs, Politics & Current Affairs
Keynote Speakers, Conference Facilitators
After thirty years' experience in broadcasting , Tim Marshall is well-placed to provide a sharp political  commentary and analysis of global affairs .
A generalist who is able to join the dots between specialisms in a wide field, the former Diplomatic Editor and foreign correspondent for Sky News has a knack for boiling down big issues, such as geopolitics and international diplomacy, to broad-brush terms that audiences from different worlds can engage with.
As well as operating on the corporate circuit as a  keynote speaker  and conference facilitator , Tim has published several critically acclaimed books, including the 2015 New York Times best-seller 'Prisoner of Geography: Ten Maps That Tell You Everything You Need to Know About Global Politics'.
His first book, Shadowplay: The Overthrow of Slobodan Milosevic, continues to be one of the most highly regarded accounts of that period, while his second, '"Dirty Northern B*st*rds!" and Other Tales from the Terraces: The Story of Britain's Football Chants', was published in 2014 to widespread acclaim.
Originally hailing from Leeds, Tim arrived at broadcasting from the road less travelled. Neither a media studies nor journalism graduate, in fact not a graduate at all, he worked his way through newsroom nightshifts, and unpaid stints as a researcher and runner to the news producers. By demonstrating competence, drive, determination and good judgement, he eventually secured himself a foothold on the first rung of the career ladder.
After three years as IRN's Paris correspondent and carrying out extensive work for BBC radio and TV , Tim joined Sky News. Reporting from Europe, the USA and Asia, he became the Middle East Correspondent based in Jerusalem, and his celebrated six-hour unbroken broadcasting stint as ground attack went in during the Gulf War made news reporting history.
Tim has reported in the field from Bosnia, Croatia, and Serbia during the Balkan wars of the 1990s. He spent the majority of the 1999 Kosovo crisis in Belgrade, where he was one of the few western journalists who stayed on to report from one of the main targets of NATO bombing raids, and he greeted the NATO troops in Kosovo itself on the day that they advanced into Pristina.
He has also been Sky News Europe Correspondent, heading up the Brussels Bureau.
In 2015, Tim launched his website -  TheWhatAndTheWhy.Com - to impressive engagement. His blog 'Foreign Matters' was shortlisted for the Orwell Prize in 2010, and he has received awards from the Royal Television Society and The New York TV Festival. He has also written for numerous national newspapers including the Times, the Guardian, and the Daily Telegraph.
During his career, Tim has been shot with bird pellet in Cairo, hit over the head with a plank of wood in London, bruised by the police in Tehran, arrested by Serbian intelligence, detained in Damascus, declared persona non grata in Croatia, bombed by the RAF in Belgrade, and tear-gassed all over the world.
He stresses, however, that none of this compares with the experience of going to see his beloved Leeds United away at Millwall FC in London.
His speaking topics include:
- Foreign news and international diplomacy
- Connecting the dots between global events
- Putting the 'geo' back into geopolitics
For further information or to book Tim Marshall, call us on +44 (0)20 7607 7070 or email info@speakerscorner.co.uk
What people said about Tim Marshall
"An extremely engaging and insightful speaker. His take on current world events was thought-provoking, yet entertaining."

Insurance Insider
Want to know more about Tim Marshall
Other speakers you might like
Speakers Corner (London) Ltd,
Ground and Lower Ground Floor,
5-6 Mallow Street,
London,
EC1Y 8RQ