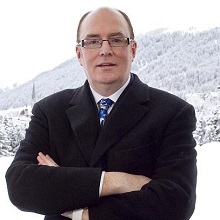 Gerard Lyons: Keynote & Conference Speakers
Economist and author, Gerard Lyons is an expert in financial markets and the global economy. Formerly Boris Johnson's chief economic advisor and the former Chief economist at Standard Chartered Bank, Gerard is a specialist in all financial domains. Accumulating 25 years in the city, Gerard is knowledgeable in all areas of international banking. An erudite economic strategist and consummate keynote speaker.
Business, Finance & Economics, International Affairs, Politics & Current Affairs
Keynote Speakers
Gerard Lyons is a highly-acclaimed economist and author. An economic advisor and strategist, Gerard has vast experience and specialist knowledge on international financial affairs. He is a clear and professional keynote speaker. Formerly Boris Johnson's economic adviser and former Chief Economist at Standard Chartered Bank, Gerard brings insight into policy, economics and markets. An excellent choice for corporate events.
He delivers an entertaining and enlightening analysis of global and UK prospects. He was one of the co-founders for 'Economists for Brexit' and played a large role in supporting the referendum, making him well-placed to discuss the complex economic issues that surround the future of the UK outside of the European Union. Gerard impresses with his in-depth analytical knowledge of developing economies.
Gerard believes that the future 'is not China or Africa, it's a global future.' Gerard marries his extensive knowledge of the economy and markets with a first-hand insight into policy making and a view of how the UK can not only recover, but thrive.
Gerard's talks encompass all aspects of the domestic and global economy - where we are, where we're going, where we might go. He looks at global trends, and uses hilarious analogies including fairytales and superheroes.
Although an economist by trade, Gerard's diverse areas of expertise span economics, geopolitics, finance and business, and his keynotes enable delegates to take his messages and harness them in any direction that their business requires.
Most of Gerard's professional life has been spent in the City. He served as Chief Economist and Executive Director at DKB International; as Chief UK economist at the Swiss Bank Corporation and Chief Economist at UK stockbroker Savory Milln. Gerard made his name at Standard Chartered where he was chief economist for 13 years.
Ranked top forecaster globally by Bloomberg (out of more than 360) in 2010 and 2011, Gerard brought his talents to the London Assembly, and worked as Boris Johnson's advisor from 2013 - 2016.
Passionate about London, he firmly believes that London must "position itself to succeed in that changing and growing global economy so that it benefits all Londoners, whether in high skilled or unskilled jobs or on high or low income."
Gerard regularly appears in the media, often writing in the Telegraph and The Times. He has testified before the House of Lords Select Committee on the Bank of England and was a member of the Commission that examined the economic consequences if Britain retained the pound.
He is widely published, writing books, columns and articles on financial and economic issues which have received high acclaim. An exceptionally intelligent keynote speaker, a perfect choice to advise and educate the corporate circuit on current economic affairs.
His speaking topics include:
- The global future of the economy
- Trends in financial markets
- Brexit
- Economic policy and international banking
For further information or to book Gerard Lyons, call us at Speakers Corner on +44 (0)20 7607 7070 or email info@speakerscorner.co.uk
Want to know more about Gerard Lyons
Other speakers you might like
Speakers Corner (London) Ltd, Unit 31,
Highbury Studios,
10 Hornsey Street,
London,
N7 8EL