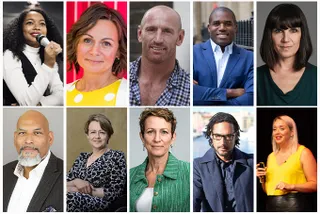 10 Diversity and Inclusion Speakers To Help Unlock Your Full Potential
The Black Lives Matter protests in 2020 led to senior leadership teams making pledges to be diverse and inclusive across their organisations. The conversation has only gotten louder since then.
The increase in demand for powerful diversity, equality and inclusion keynote speakers who deliver diverse perspectives and educate about the untapped natural resource at our fingertips has sparked us to round up 10 diversity and inclusion speakers to help unlock your full potential.
With so many incredible options, who will you choose to be the next expert to enlighten your audience?
Abadesi Osunsade is the Founder and CEO of Hustle Crew, VP of global community and belonging at Brandwatch.  Abadesi is on a mission to help businesses, especially in the tech industry, become more inclusive. Through her own lived experiences in the workplace, Abadesi shares with audiences how we all have a part to play within our companies success.
Nancy is an occupational psychologist and the CEO of Genius Within, specialising in the workplace support of adults with neuro-differences. Nancy aids thousands of clients each year to improve their productivity at work through diagnosis, assessment and coaching of 'neurodiverse' conditions. She is working towards a future where all people with neurodiversity will be able to maximise their potential and work to their strengths, and where children are educated to the power of their potential.
Gareth Thomas
One of the biggest figures in Welsh rugby, Gareth Thomas captained his side to Grand Slam victory and led a British & Irish Lions tour of New Zealand before making the switch to Rugby League. Off the field, Gareth's personal life hit the headlines in 2009 when he famously revealed to the world that he was gay. This iconic revelation made him the first high-profile sportsman to come out whilst still playing. Although he never downplays the significance of this achievement, he hopes to see a day when it is no longer an issue in the game at all.
Labour MP for Tottenham and former lawyer, David Lammy was previously the Minister of State at the Department of Innovation, Universities and Skills. Drawing on his personal story, David promotes the power of education to change lives; he encourages young people, especially those under-represented at many top universities, to achieve their academic potential. Watch his powerful story about his own experiences and how allyship and positive leadership can transform the future of business.
Catherine began her career as a journalist for The Economist, then moving on to Forbes, and TIME before becoming a best-selling author with her biography of Prince Charles. Catherine then co-founded and became president of the Women's Equality Party which allows her to speak with authority on embracing change, growing an enterprise, diversity and equality and female potential.
John is a respected organisational psychologist, best-selling New York Times author and CEO of Amaechi Performance Systems (APS) and partners with organisations to help leaders move from being transactional to transformational. Focusing on improving performance, John solves intractable people problems to create thriving workplaces despite the challenges and disruption of the modern world. 
Baroness Tanni is one of Britain's most successful paralympic athletes in wheelchair racing, and is an esteemed ambassador for disabled athletes. With 16 Paralympic medals, Tanni is a true inspiration to disabled athletes and speaks with authority on a number of topics including disability rights, welfare reform, and of course sport. Her incisive and well-informed views have made her a very popular conference speaker with thousands of people enjoy hearing her insights on topics of motivation, diversity, overcoming adversity and achievement.
Former CEO of Lloyd's of London, Dame Inga Beale is a British businesswoman with over three decades of experience in the financial services sector. As the first female CEO of Lloyd's, she played a key role in changing cultural perceptions and highlighting the importance of diversity and inclusion. Under her leadership, Lloyd's launched a number of diversity initiatives, including the Dive In Festival, which grew to become the only world-wide insurance industry diversity and inclusion event.
British-Nigerian historian, broadcaster and film-maker David Olusoga is also the author of Black & British: A Forgotten History which was awarded both the Longman-History Today Trustees Award and the PEN Hessell-Tiltman Prize. His powerful keynotes inspire transformation and inform audiences into action.
Coining the phrase #KillerStereotypes, Hannah Cotton is a progressive feminist who questions why society is beholden to stereotypes that create more harm than good, and how we can evolve for the modern world we find ourselves in. Exploring the depths of how the successes of feminism can be used to help remove male stereotypes which permeate from childhood. She addresses the causes of physical violence by men against women, and indeed why society creates a mindset for men to feel shame, humiliation, disrespect or ridicule.
Hailing from all walks of life, our diversity and inclusion speakers are here to share their incredible stories and deliver the expert advice to create equal opportunities for all.
For further information or to book a speaker, call us on +44 (0)20 7607 7070  or email  info@speakerscorner.co.uk
Newsletter Sign Up
If you liked this article then why not sign up to our newsletters? We promise to send interesting and useful interviews, tips and blogs, plus free event invites too.
Have an enquiry?
Send us a message online and we'll respond within the hour during business hours. Alternatively, please call us our friendly team of experts on +44 (0) 20 7607 7070.
Speakers Corner (London) Ltd,
Ground and Lower Ground Floor,
5-6 Mallow Street,
London,
EC1Y 8RQ