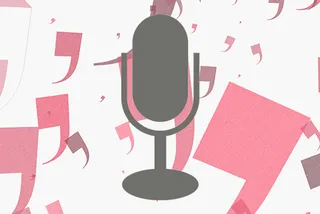 An Interview with Jeffrey Robinson
How did the corporate speaking start?
I spent my last year of high school and my first year at university working as a saloon comic. This, at a time when I was still too young to get into saloons. Today they call it "stand up." It was tough. Now that I'm old enough to get into saloons, I can't stay awake that late. Corporates are the obvious answer. Most of the people I speak to can't stay up that late any more either. A much more suitable group.
Can you remember your first speaking engagement?
Huh? I've been doing this for more than 40 years. I can't even remember what I had for lunch yesterday.
Which event has been your favourite and why?
I worked a corporate cruise years ago with Norman Wisdom. I went to his show and he came to mine. I told the audience that I was very nervous with him there (which was a little white lie because I never get nervous) and that my wife's advice was, "just be yourself." So, I told the audience, "I'm just going to be myself." That's when I whipped out a baseball cap, and put it on sideways. Norman loved it. I used the same gag with Robin Day and a bow tie, Lionel Blue and a skull cap and Ian McKaskel and his own eye glasses. The old ones are the best.
If you could speak at any event, past or future, what would it be?
Davos. Being able to talk directly to that much power and maybe, just maybe, make a point that changes things a little bit, would be very gratifying. Also, the food is good.
On average, how many times a year do you speak at corporate events?
Some years 6-12. Some years 12-24. It usually depends if I have a book out, or have been doing a lot of television. But, that doesn't matter because when I'm not working, I make my wife and kids listen.
Do you use PowerPoint?
Not even with my wife and kids.
Are you as happy speaking to 50 as to 1,000 people?
Fifty is good. 1000 is better. In fact, the bigger the audience, the easier. I've done events with several thousand, and that's wonderful. The nightmare is 8 people. I worked one night, many years ago, in Chester and the group was maybe 11. They called dinner at 8 for 8:30 and at 9:45 they were still in the bar. The table was set up so that everyone sat together, and with each course - there were four - a different wine appeared. By the time I got introduced at 1:15 am, no one was still awake. I got introduced as, "we have a speaker... go ahead." It was awful.
How do you like to be introduced?
How do I LIKE to be introduced? Six foot one, blond hair, blue eyes, cat-like movements. Because that never happens, I always hand someone a very short intro and just hope for the best.
Do you always like to do a briefing call before the event?
It is absolutely vital. I always want to give the organisers what they want. If no one tells me, I ask.
What are the most asked for topics?
Way back when, in the days when I was writing books like The Risk Takers, I was always asked to talk about entrepreneurs, and to do motivational speeches. These days, with my books about money laundering, fraud, organised crime and the effects on big business... especially lawyers, accountants, brokers, bankers, etc... that's the most sought after topic.
Is your speech interactive with audience participation?
No. Occasionally, an organiser will ask if I'll take questions. I'm happy to do that.
Do you have any funny/embarrassing speaking anecdotes you care to share?
Funny? Not funny in the hah hah funny sense, but there have been dozens and dozens of enjoyable appearances. So, fun, yes. Embarrassing? I'm afraid so. I have followed clog dancers at midnight, and a stripper at lunchtime. I always try to make the organiser understand that an early dinner and an early after-dinner speech makes for an enjoyable evening, especially if people have been working all day and need to drive home. But then, some organisers want an in between dinner speech, which means you're fighting for attention against the waiters!
The most embarrassing of all? That night in Chester. And that troubles me, because I want the event to go well and when it doesn't, I feel bad too. Luckily in Chester, I was the only sober one in the room, so I was the only one who noticed.
Your favourite film?
Very hard to say. After seeing Charades, I stepped into some woman's shower fully dressed. I guess you have to be Cary Grant to pull that off. After Un Homme et Une Femme, I started hanging out in France. It was too fattening. After Casablanca, I started saying to women, "we'll always have Brooklyn." They wanted Manhattan.
Favourite book?
Now you're talking. Because I write books that I want to read.
Favourite holiday destination?
I lived in the south of France for 12 years and once you know that part of the world, it's tough to find any place comparable. Although a few years ago I discovered Savannah Georgia. It's ranked high on the list of America's great secrets. Hauntingly beautiful and one of the few places that remains intact of the ante-bellum south. Otherwise, I'm good in New York
What's your tipple?
I'm not much of a drinker. But if you put a bottle of '61 Petrus on the table, count me in.
Country or townie?
Definitely townie. I was 22 the first time I met a cow. It was in Texas. I was on one side of the fence, she was on the other. Neither of us were terribly impressed.
Looking to book a speaker? Inspired to put on your own conference? Give us a call for on +44 (0) 20 7607 7070 or email us at  info@speakerscorner.co.uk .
Have an enquiry?
Send us a message online and we'll respond within the hour during business hours. Alternatively, please call us our friendly team of experts on +44 (0) 20 7607 7070.
Speakers Corner (London) Ltd,
Ground and Lower Ground Floor,
5-6 Mallow Street,
London,
EC1Y 8RQ