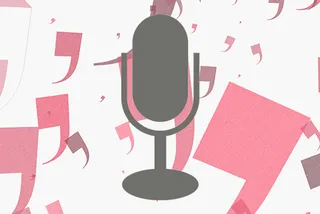 An Interview with Michael Pawlyn
How do you like to be introduced?
As an innovator.
How did the corporate speaking all start?
It started in earnest after I gave a talk at Google's Zeitgeist conference. It was a great opportunity so I did a lot of preparation with a presentation skills coach. It worked out fairly well and it led to a number of recommendations to speaking agencies.
Can you remember your first speaking engagement?
When I first started I deliberately put myself forward for some fairly obscure events so that I could practice my speaking skills. The European General Galvanisers Association Annual Dinner was one such event!
Which event has been your favourite and why?
My TED talk is the most succinct summary of what I do and I received some very flattering feedback from it. The other one I am most proud of was my rebuttal to Bjorn Lomborg at the BCO conference in 2009. He is one of the world's best known environmental sceptics – a very tricky character and way above my level in terms of profile but, according to the feedback, I more than held my own against him. I did my best to not just point out the flaws in his analysis but also show a very positive way of responding to the environmental challenges.
If you could speak at any event, past or future, what would it be?
I would guess that most people who engage in public speaking dream of one day delivering a speech that changes the course of history. For me, it would be at an event that concerned global environmental issues.
Who would you most like to share a platform with?
Amory Lovins, Paul Hawken, Janine Benyus, Dayna Baumeister, Michael Braungart.
Do you use PowerPoint?
Yes – my subject matter comes across much more clearly when backed up with good images.
Are you as happy speaking to 50 as to 1,000 people?
Yes. In some ways, the more people there are, the more energising it is.
Do you always like to do a briefing call before the event?
Yes, a briefing call always helps me to tune my talks to the specifics of the event.
What are the most asked for topics?
Biomimicry, innovation, creative responses to climate change.
Is your speech at all interactive with audience participation?
When it suits the occasion and subject matter.
Your favourite film?
Dersu Uzala by Akira Kurosawa.
Favourite book?
The Magus by John Fowles.
Favourite holiday destination?
Italy!
What's your tipple – wine, beer, champagne?
Brunello di Montalcino.
Looking to book a speaker? Inspired to put on your own conference? Give us a call for on +44 (0) 20 7607 7070 or email us at  info@speakerscorner.co.uk .
Have an enquiry?
Send us a message online and we'll respond within the hour during business hours. Alternatively, please call us our friendly team of experts on +44 (0) 20 7607 7070.
Speakers Corner (London) Ltd,
Ground and Lower Ground Floor,
5-6 Mallow Street,
London,
EC1Y 8RQ