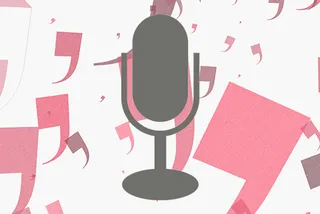 An Interview With Wayne Garvie
What can a corporate audience learn from your experiences?
Aside from the mischievous anecdotes? I'm a passionate believer that whatever industry you are in there is one key issue you have to get right: creating an environment in which creativity and talent can flourish. It doesn't matter if you're running hospitals, building oil tankers, making biscuits or developing television programmes, all leaders ask themselves the same thing: have I got the best talent and I am maximizing their potential. Hopefully, I can give some clues as to how to best answer those questions.
What's the biggest challenge you've overcome?
Personally, the biggest challenge I faced was blagging my way into the World Cup final in Rome in 1990 without a ticket. The biggest professional challenge I faced was when I was appointed Head of Entertainment at the BBC and I had to turn around a department that had become irrelevant, both within the BBC and the wider television industry. I had to rebuild from the ground up. I learnt the necessity of a clear vision. Once I had a vision, I had a narrative of what I wanted BBC Entertainment to be and how individuals could help us achieve that. How we wanted to be the market leaders, work only with the best people and create innovative shows that people loved passionately. Within three years we had launched both Strictly Come Dancing and Dragon's Den so I guess we went someway to overcoming that challenge.
Why do you enjoy being a speaker?
• I love the performance aspect of speaking, I get a buzz from that, but I really love the mutual learning that goes on. The best sessions are the ones in which people engage and exchange ideas, even when your own ideas are challenged. I've found that I also get quite a lot of feedback after an event, people following up, asking advice. It can be a very rewarding experience I have found.
If you could speak at any event, past or future, what would it be?
I really would have loved to have been around in the House of Commons in the late eighteenth century when you had this incredible range of orators – Charles James Fox, Pitt the Younger, Wilkes, Sheridan, Burke and others. Their speeches had a genuinely powerful impact not only on the events of the day, but also on the way in which parliamentary democracy developed.
Who would you most like to share a platform with?
I'd really like to hear JK Rowling on the process of creation. I spend a lot of my time with my teams trying to develop global entertainment brands, brands that have a unique world view and are loved throughout the world. This single mother did just that, on her own, and appears to have kept both her values and sanity intact.
Which recent TV show do you wish you had been the one to commission?
Game of Thrones. I had never read the books, but was given the pilot script to see if the BBC would be interested in getting involved. For a number of reasons it wasn't to be, but what an extraordinary show that is. If you ever want proof of what a piece of entertainment can mean to an audience, check out the YouTube clips of viewers watching The Red Wedding episode.
What do you do to ensure your presentation has a lasting impact?
There has to be some takeaway for people. Little nuggets they can use in the future. So I always make sure that at the end, I come to those points for a summary. And, of course, a few good jokes.
What's your favourite way to spend a Sunday?
I think that may depend on how Louis Van Gaal gets on as the new manager of Manchester United…..
If you are interested in booking Wayne Garvie for your live event or require any additional information regarding Wayne Garvie then please fill in the enquiry form and one of the Speakers Corner booking agents will contact you within 24 hours.
Have an enquiry?
Send us a message online and we'll respond within the hour during business hours. Alternatively, please call us our friendly team of experts on +44 (0) 20 7607 7070.
Speakers Corner (London) Ltd,
Ground and Lower Ground Floor,
5-6 Mallow Street,
London,
EC1Y 8RQ