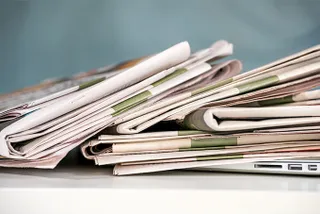 Attenborough reveals creationist hate mail for not crediting God
Sir David Attenborough has revealed that he receives hate mail from viewers for failing to credit God in his documentaries. In an interview with this week's Radio Times about his latest documentary, on Charles Darwin and natural selection, the broadcaster said: "They tell me to burn in hell and good riddance."
Telling the magazine that he was asked why he did not give "credit" to God, Attenborough added: "They always mean beautiful things like hummingbirds. I always reply by saying that I think of a little child in east Africa with a worm burrowing through his eyeball. The worm cannot live in any other way, except by burrowing through eyeballs. I find that hard to reconcile with the notion of a divine and benevolent creator."
Attenborough went further in his opposition to creationism, saying it was "terrible" when it was taught alongside evolution as an alternative perspective. "It's like saying that two and two equals four, but if you wish to believe it, it could also be five ... Evolution is not a theory; it is a fact, every bit as much as the historical fact that William the Conqueror landed in 1066."
Attenborough, who attended the Wyggeston Grammar School for Boys in Leicester in the 1930s, said he was astonished at manifestations of Christian faith.
"It never really occurred to me to believe in God - and I had nothing to rebel against, my parents told me nothing whatsoever. But I do remember looking at my headmaster delivering a sermon, a classicist, extremely clever ... and thinking, he can't really believe all that, can he? How incredible!"
In 2002, Attenborough joined an effort by clerics and scientists to oppose the inclusion of creationism in the curriculum of state-funded independent schools receiving private sponsorship, such as the Emmanuel Schools Foundation.
Have an enquiry?
Send us a message online and we'll respond within the hour during business hours. Alternatively, please call us our friendly team of experts on +44 (0) 20 7607 7070.
Speakers Corner (London) Ltd,
Ground and Lower Ground Floor,
5-6 Mallow Street,
London,
EC1Y 8RQ