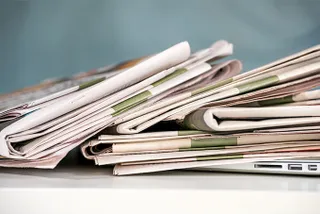 Comedian Dan Antopolski wins comedy prize with his hedgehog joke
Funnyman Dan Antopolski has won a prize for the funniest joke of this year's Edinburgh Fringe.
The comedian, who has previously been nominated for the Perrier award, picked up the trophy and £1,000 prize money from TV channel Dave.
The winner was announced after nine comedy critics sat through an average of 60 comedy performances each before choosing 27 for viewers to vote on.
The winning joke was a one-liner from Dan's show Silent But Deadly - "Hedgehogs. Why can't they just share the hedge?"
Dan proved popular with both the critics and Dave viewers as another of his jokes made the top ten list. "I've been reading the news about there being a civil war in Madagascar. Well, I've seen it six times and there isn't."
A couple of Speakers Corner's favourite comedians also made the top ten.
Marcus Brigstocke's  gag was at number 7 - "To the people who've got iPhones: you just bought one, you didn't invent it!"
"A spa hotel? It's like a normal hotel, only in reception there's a picture of a pebble." Rhod Gilbert's  joke was rated eighth by critics and viewers.
More than 3,000 comedy fans voted, with almost 18% choosing Dan Antopolski's one-liner.
Dan said: "I'm delighted to get the prize. Although I have won things before at the Fringe, this definitely means the most to me and that it should unite my loves of hedgehogs, comedy and Dave makes this prize very special."
Dan's show Silent but Deadly continues at Edinburgh until the 31st August.
Have an enquiry?
Send us a message online and we'll respond within the hour during business hours. Alternatively, please call us our friendly team of experts on +44 (0) 20 7607 7070.
Related from around the site
Speakers Corner (London) Ltd,
Ground and Lower Ground Floor,
5-6 Mallow Street,
London,
EC1Y 8RQ