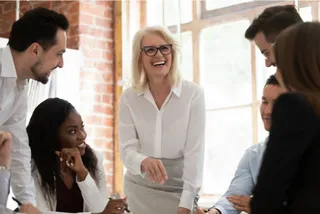 How businesses can adapt to a shrinking, ageing workforce
Seismic events like Brexit, the COVID-19 pandemic, and the Great Resignation have forced businesses and governments to consider the future of our workforce. The UK is currently experiencing skills shortages, a shrinking talent pool, and an ageing population. The ratio of working people to retirees is now 3:1 — a decrease of 50% since the 1960s. By 2035, it's predicted the ratio will be 2:1.
As businesses and as a society, we need to prepare for this cultural shift. By adopting a new mindset, we can make sure we're equipped to provide work, healthcare and pension support to everyone that needs it.
So how are these workforce changes going to impact businesses — and what can we do to prepare?
Seeing the ageing workforce as an opportunity
The digital revolution is forcing us to challenge our assumptions about work and life. As the use of technology increases, the perceived value of experience declines. Some businesses view older, more experienced staff members as less dynamic and tech-savvy than digital natives.
But the pandemic has encouraged everyone to become better at using technology, regardless of their age. And as we deal with downturns and the prospect of recession, those who have been through difficult economic periods in the past will be able to offer support and insight that younger, less experienced workers can't.
As our workforce gets older and smaller, recognising the value of experience is key to helping our businesses thrive. But this requires a societal mindset shift. As a society, we sometimes regard people who are content in their jobs as unambitious or unmotivated. 
But there's no doubt that as people get older, they become more content with who they are and what they can offer. As we enter the unknown post-pandemic world, this security and experience will be vital for employers.
Is retirement still the end goal for our workforce?
Many people baulk at the increasing retirement age. But others are moving away from the idea of retirement as the ultimate goal. Studies have shown that working longer actually means living longer — and many people simply don't want to quit work the minute they turn 65.
Through schemes like compulsory pensions, the government is driving us towards the concept of comfortable retirement. But as a society, this idea no longer compels us. Instead, people want to feel financially and intellectually focused for longer. As businesses, we should be aiming to fulfil those needs for as long as people want to work.
Why we need to focus on the individual needs of our employees
As our workforce shrinks, businesses need to adjust their focus away from teams or workforces to individual employees. From recruitment to progression paths, helping people find the right role is key to providing fulfilment.
Video CVs give employers the opportunity to get to know people on a personal level before they even employ them. They're also a great way for candidates to get their personality across, so employers can tell if they'll be a good fit for the team. Beyond recruitment, it's important to create progression paths that motivate staff and help them achieve their personal goals.
Not everyone wants to move into management — and many people who are fantastic at their jobs don't make good managers. Leadership and management skills don't develop simply because of a job title — training and mentorship is needed. But many businesses undervalue management skills, offering it as the obvious career path and funnelling people down this route even if it doesn't suit their skillset or ambitions.
Both employers and employees are responsible for changing the way business is conducted. And to adapt to our shrinking workforce, we need to do it sooner rather than later.
How to prepare for a shrinking, ageing workforce
Shifting your focus from global policies to individual experiences is the best thing business leaders can do to prepare for the future. We need to refine the support and opportunities we're providing to each employee, without judging them on their ambitions.
We also need to embrace technology. There's a pervasive fear that AI will drive us all out of work — but this isn't the reality. AI will only help us work more efficiently. It can help us automate process-driven tasks, but it can't replicate the intellectual capacity and human experience around them.
Everything revolves around experience. As our workforce becomes older, and the talent pool becomes smaller, people across society need to adjust their mindsets on retirement, technology, and the value of experience. With new priorities and a more positive outlook, we can truly prepare ourselves for the future of work.
For further information or to book a keynote speaker, call us on +44 (0)20 7607 7070 or email  info@speakerscorner.co.uk .
Newsletter Sign Up
If you liked this article then why not sign up to our newsletters? We promise to send interesting and useful interviews, tips and blogs, plus free event invites too.
Have an enquiry?
Send us a message online and we'll respond within the hour during business hours. Alternatively, please call us our friendly team of experts on +44 (0) 20 7607 7070.
Speakers Corner (London) Ltd,
Ground and Lower Ground Floor,
5-6 Mallow Street,
London,
EC1Y 8RQ