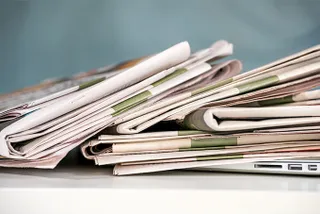 Nobel Prize Winners 2016
The Nobel Prize winners of 2016 have been announced!
A prestigious annual event, inaugurated in 1901, the prizes commemorate major achievements within the spheres of  physics , chemistry, physiology or medicine , literature , the economic sciences , and peace , made by some of the year's most inspirational figures.
Amongst our speakers, past laureates include Muhammad Yunus  - the social entrepreneur who pioneered the concept of 'microcredit' - and  Kailash Satyarthi  - a children's rights advocate - both of whom received the Nobel Peace Prize, in 2006 and 2014 respectively.
Pervading academic discourse and popular culture, the prizes have always previously provoked significant press attention and discussion around the globe... so how did they come about?
It all began with Alfred Nobel, a Swedish philanthropist, born in Stockholm in 1833, who was known for inventing dynamite and owning a Swedish arms manufacturing company called Bofors AB.
Alfred Nobel aspired for a noble legacy
Profoundly affected by a premature obituary, which condemned him for profiting from the sales of arms, Alfred set about to ensure a more glowing legacy by spending his money altruistically instead. In 1895, a year prior to his death, he set aside the bulk of his estate, amounting to 31,225,000 Swedish Kronor (around £270m today), in his last will and testament. This fortune was used to establish the Nobel Prizes - to be presented annually without distinction of nationality.
The original prize categories - physics, chemistry, physiology or medicine, and literature - were chosen by Alfred himself, with economics added later in 1969. Apart from the Peace Prize, which can be received by institutions, the awards can only be given to individuals. Posthumous nominations are not permitted, but candidates who died in the months between their nomination and the decision of the prize committee are eligible.
Nobel Peace Prize winners  Kailash Satyarthi  & Malala Yousafzai at the 2014 ceremony
Over the years, the selection process has remained largely the same. The Nobel Committee in Sweden sends out forms to 6000 individuals - often academics in the category areas - while the Norwegian Nobel Committee sends out similar peace prize forms to governments, international courts, past peace prize winners and religious leaders. A list of preliminary candidates, along with a report reflecting the advice of experts, is submitted to the prize-awarding Swedish and Norwegian institutions, who meet to choose a maximum of three laureates in each field by a majority vote.
In Stockholm, the Royal Swedish Academy of Sciences confers the prizes for physics, chemistry, and economics, the Karolinska Institute confers the prize for physiology or medicine, and the Swedish Academy confers the prize for literature. The prize for peace is presented at the annual Prize Award Ceremony in Oslo, Norway.
Who are 2016's Nobel Prize laureates?
The Nobel Prize in  Physics  2016
David J. Thouless, F. Duncan M. Haldane and J. Michael Kosterlitz
"for theoretical discoveries of topological phase transitions and topological phases of matter"
The Nobel Prize in  Chemistry  2016
Jean-Pierre Sauvage, Sir J. Fraser Stoddart and Bernard L. Feringa
"for the design and synthesis of molecular machines"
The Nobel Prize in  Physiology or Medicine  2016
Yoshinori Ohsumi
"for his discoveries of mechanisms for autophagy"
The Nobel Prize in  Literature  2016
Bob Dylan
"for creating new poetic expressions"
The Nobel  Peace  Prize 2016
Juan Manuel Santos "for his resolute efforts to bring the country's more than 50-year-long civil war to an end"
The Sveriges Riksbank Prize in  Economic Sciences  in Memory of Alfred Nobel 2016
Oliver Hart and Bengt Holmström
"for their contributions to contract theory"
Source: http://www.nobelprize.org/
Have an enquiry?
Send us a message online and we'll respond within the hour during business hours. Alternatively, please call us our friendly team of experts on +44 (0) 20 7607 7070.
Speakers Corner (London) Ltd,
Ground and Lower Ground Floor,
5-6 Mallow Street,
London,
EC1Y 8RQ