PPA Connect Week and the power of live events
Here at Speakers Corner, we know all too well the power of live events, and the crucial role they play across a plethora of sectors.
As the main UK professional body for magazine media, the PPA has taken a lead in promoting the role of such live events within the publishing industry
in the form of Connect Week. Bringing together all those involved in the making of events, the Connect series aims to inspire and facilitate discussion between business owners, content producers, and those in operations and marketing.
"Live events continue to thrive as a platform because what they offer is incredibly unique," commented PPA Business Media Manager Caroline Cronin.  "Your messages get direct cut-through and you benefit from a very direct relationship with your audience - those two things are the holy grail for any brand."
With that in mind, as one of PPA's 120 associate members and a sponsor of the Connect series, some of our team - account managers Adam
and Debbie
, logistics wizard Dave, and marketer Lucy M - headed down to the mid-week Connect conference to meet our industry peers.
Arriving 9am sharp on 13th July at Tobacco Dock, Wapping, we set up our exhibition stand and tucked into a hearty breakfast in preparation for the day of speaker sessions ahead. A great location for the conference (and the 'perfect club venue', according to Dave), the lofty space and glass rooms were conducive to an open and fluid experience: a central exhibition room; a larger space for the opening panel discussion and keynote; and three session areas for a more specific focus on 'Strategies & Tactics', 'Communities & Marketing', and 'Content: Product & Editorial'.
Kicking off with an inspiring panel discussion in the main room, Susannah Kempe (CEO of Flying Trumpets) skillfully wove together the perspectives of four publishing professionals to create a tapestry of what it is that makes an event successful. Passionate about their jobs and the industry as a whole, these individuals each reiterated a key theme: events should deliver 'the wow factor to a community of nutters' in a manner that helps them share their passion and take it to greater heights.
Following an invigorating keynote by Liz Mosely (Marketing Director, Lions Festival), who whet the appetite by explaining the innovative marketing strategy employed by Cannes Lions, we dove into the three streams, swapping rooms throughout the day to experience a rich pick n' mix of different speakers and topics, interspersed by tea breaks, dreamy quinoa salads and pistachio macarons.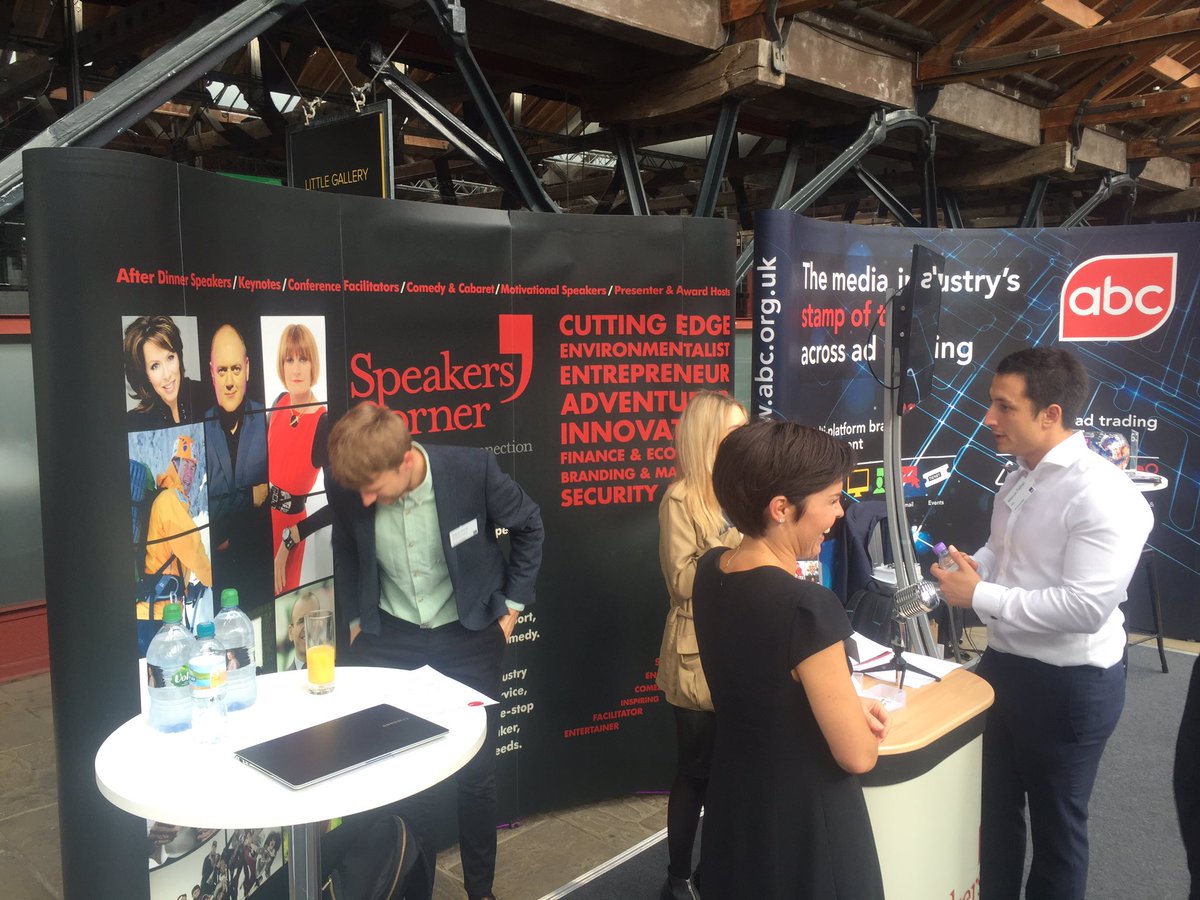 Some of the team 'posing in a natural way' at PPA Connect Week
Within 'Product & Editorial', a very clear message emerged, and one that we champion here at Speakers Corner: content is key to a successful event. More specifically, UNIQUE content. By bringing together speakers from different fields in a fresh context, the resultant confrontation of each other's ideas and skill-sets leads to an experience that delegates simply can't get by sitting at home browsing the Internet.
As we have a Logistics department here at Speakers Corner, dedicated to coordinating everything from pre-event briefing calls, speakers' expenses including travel, and 24-hour support on the day itself, we were interested in what those in the 'Strategies & Tactics' had to say on how, even small, teams can deliver outstanding customer experience for delegates, having successfully drawn them away from their desks.
Meanwhile, in 'Communities & Marketing', a range of novel vs. traditional ways for planning an event were brought to light in order to maximise ROI – from using technology to engage communities, to creating partnerships and finding sponsors. Adam Said (Account Manager, AFI Group), for example, provided an interesting take on the top ten technologies to ensure your event's success.
By the time the day drew to an end, the audience, having reconvened for the final keynote, were left buzzing with more than just wine.
As Caroline Cronin expresses: "Good events match robust, relevant content with an exciting event experience. The challenge we have is that the benchmarks for event success are constantly churning". She continues, "Staying close to our audiences and talking to each other as event professionals is key to understanding where the future will take us, and the PPA Connect Conference provides an important opportunity for the community to focus on the key issues and move things forward together."
It seems that, even in an age where technology
has revolutionised how we interact, live events remain a timeless and critical way for engaging and building communities. Why? Nothing quite beats meeting up in person to experience your passion as a unified group of 'nutters' all in the same place. In a format that other platforms can't quite replicate, live events allow a unique, tangible connection with content that is delivered right in front of your eyes, and the impact is all the greater for it.
We represent a total of over 6000 speakers, with 1000 listed on our website. For more info., call us on  +44 (0) 20 7607 7070
or email us at  info@speakerscorner.co.uk
.
Have an enquiry?
Send us a message online and we'll respond within the hour during business hours. Alternatively, please call us our friendly team of experts on +44 (0) 20 7607 7070.
Speakers Corner (London) Ltd,
Ground and Lower Ground Floor,
5-6 Mallow Street,
London,
EC1Y 8RQ