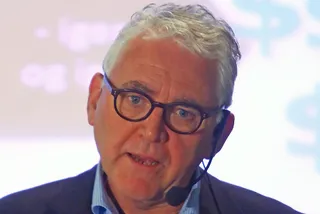 London Art Week Meets LEGO: What Makes Art Timeless?
With London Art Week taking over the capital city, the big smoke is going to be overflowing with culture, collections, and celebrated works. But this very idea of celebrated collections, prompts us to question, what makes something celebrated? Quality is an extremely difficult and abstract idea to judge, but we will attempt to explore what it means in this day and age. As us city dwellers find ourselves in the midst of the "most important gallery-based celebration of pre-contemporary art," Speakers Corner talks to a modern and subversive artist , keynote speaker  and marketing and brand innovator : Christian Majgaard , in order to look at what makes art timeless.
London Art Week is a celebrated collection of pieces from antiquity to the 20th century, which is fundamentally missing collections from the 21st century. When we think about great art often the first pieces to come to mind are The Mona Lisa or Vincent Van Gogh's sunflowers, both beautiful pieces, but do they stir something inside us and entice thought-provoking feelings and revolutionary actions? Despite being attractive, potentially not.
Vincent Van Gogh's Famous Sunflowers
Therefore, we wanted to look at the collections at London Art Week and canonical art through the Speaker's Corner lens. Our speaker Christian Majgaard is an innovative marketing and branding expert, responsible for the visionary business ideas behind LEGO. He championed the LEGO brand successfully developing it from a child's toy to a cult classic piece of technology  that works with robotics and interactivity. Through creative branding Christian asks his audience to think of his work as more than visually pleasing, its purpose is to impart a message. Christian wants to make a relevant impression and inspire new change through unprecedented vision.
We caught up with Christian and discussed his ideas on what makes a piece of art timeless and celebrated for him, what legacy he has hopes LEGO will impart and how celebrations like London Art Week can speak to modern businesses.
Q: You helped move Lego from a plastic brick to a huge brand which uses advanced technology and robotics and is recognised in the gaming marketing too. What is it about Lego that has made it into a cult classic piece of art, a timeless idea that has made it last through the ages?
Christian: Many factors contribute to why LEGO has become what it is today.
I believe the most decisive, in terms of being a classic piece of art, is the versatile capability of the core product: a modular brick that can turn into whatever the artist wants, no matter whether the artist is a child or an adult famous academy educated sculptor.
No doubt, it has helped a lot that LEGO consistently has demonstrated the imaginative models that LEGO bricks can turn into as opposed to just expressing the product as a pile of bricks. Their continuous co-operation with designers and artists has made that possible.
LEGO's lasting appeal through ages and generations is helped by the consumer experience. Many adults hold very positive memories from their childhood's LEGO play and naturally wish to bring that joy on to their own children. Not just as a gift to go away and play with separately, but as an activity to share. In fact, parents do not only love sharing the play now and then, but also take joy and pride in observing the creative skills of their children. This again reinforces the child's positive experience with the situation and thereby contributes to this positive spiral.
The LEGO Company has managed to stay timeless by being in sync with the spirit of the time. Both in terms of the themes in the product lines -  just think of LEGO Ninjago, LEGO Starwars, and LEGO Friends - and in terms of the technologies applied. When the world was low tech, LEGO was low tech and when the world turned into electronics, computers and entertainment, LEGO followed by adapting its product idea without losing the core meaning or core identity.
LEGO Heads
Q: Now you have left the LEGO brand you can speak from a place of hindsight, what sort of reaction do you hope the toy and its many outlets such as LEGOLAND and the Harry Potter license to have within its users now and in the future?
Christian: I hope and believe that LEGO as a brand through all its creative expressions as toys, theme parks, robots or media products will continue to provide a unique and joyful customer experience for both child and parent. An experience which both parties will wish to repeat maybe not for the exact similar reason. The child will think of the fun and joy whereas the parent may also think about the educational outcome for the child.
Q: Currently you advise companies on marketing and innovation in their path to success, do you think art plays a big part in aiding the market, and how does London Art week and its classical celebration play into modern business development?
Christian: The world always needs new and fresh ideas to make it a better place for all to live in.
The low interest rate in the world is a sign to me that there is more capital than there are bright ideas.
Great ideas for businesses do not come out of business plans or cash flow estimations, nor out of opulent manager titles. They come out of inspiration and surprises. This is where art and artists have a role to play -  for mankind and for businesses: to inspire and surprise people.
Art is different from design  in the sense that the process behind art has no purpose or no reproduction rule to follow other than the expression itself, whereas design happens on the merits of a briefing and has to follow rules of functionality aesthetics and economy.
So my advice to businesses is: you may brief your designers, but don't' brief an artist:  instead go and see what they have expressed. If you do it with an open mind, there is every reason why you could be both inspired and surprised, which again increases the likelihood that your business may contribute to a better world.
Christian's innovative ideas, and specialist work on unconventional forms of art, helps us realise that a piece of art work does not have to be canonical, or globally acclaimed by top art critics for it to be celebrated and timeless. We need artists in business in order to creatively develop and move forward. Although London Art Week celebrates beautiful pieces that could be considered subversive for their time, Christian helps to make us realise that modern artists in the business world, can contribute to creating a piece that is timeless through imparting an important message. Whether this be a message of education, technology, or childhood memories, it will in turn contribute to a better world.
Have an enquiry?
Send us a message online and we'll respond within the hour during business hours. Alternatively, please call us our friendly team of experts on +44 (0) 20 7607 7070.
Speakers Corner (London) Ltd,
Ground and Lower Ground Floor,
5-6 Mallow Street,
London,
EC1Y 8RQ