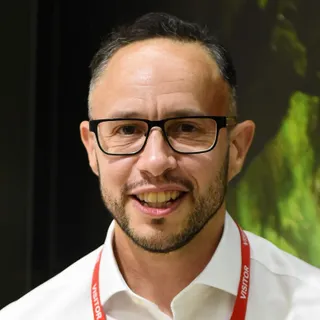 Matt Ellison
Matt is an inspiring and thought provoking transgender speaker. His life experience as a trans man himself means those who hear Matt speak are inspired and encouraged. The principles of facing something so profoundly difficult and making such a huge and fundamental change apply to everyone in all areas of their professional and personal life.
"One of the best talks I've ever heard at a conference!"
Royal Pharmaceutical Society
At the age of 39, after decades of fear, Matt chose to make one of the most fundamental and disruptive changes a person can make. A rewarding journey, Matt had moments of humour alongside complications and difficulties facing the hurdles as they came one by one.
Matt often had to make tough, on the spot, decisions, including overcoming the fear that had paralysed him and prevented initiating the changes he needed to make.
Fear usually plays a big part in holding back change, but as fear and understanding are inversely proportionate, knowledge is key to facilitating change.
Matt's journey is incredibly inspiring and deeply knowledgable, maintaining his business alongside his network of friends and family, and is now able to share his insights into the many strategies he developed to achieve this. This includes how your language and tone will carry others with you, and why building a strong and willing team is imperative for success, whether that's within business or undergoing gender transition.
Matt was featured on a Channel 4 documentary , which as The Guardian recounted, "There's a moving account from a trans man who details the fear he had of female puberty, knowing his body would soon grow breasts he didn't want."
Tailored towards the audience, Matt has something to offer everyone, including healthcare professionals, businesses, educational institutions, emergency services, political and religious groups, plus more.
Matt has worked as a Pride speaker for Microsoft, Disney, Rolls Royce and eBay, to name just a few.
Depending upon requirements he can delve deep into the mind of what it feels like to be transgender with a story full of highs, lows and humour. He can educate the audience around such things as the medical interventions, social aspects, safe practices for service providers and employers, as well the legal implications of the Gender Recognition Act and the popular Q&A if requested gives the opportunity to answer all those burning questions.
For further information or to book Matt Ellison, call us at Speakers Corner on +44 (0)20 7607 7070 or email  info@speakerscorner.co.uk
What people said about Matt Ellison
"One of the best talks I've ever heard at a conference!"

Royal Pharmaceutical Society
Want to know more about Matt Ellison
Other speakers you might like
Speakers Corner (London) Ltd,
Ground and Lower Ground Floor,
5-6 Mallow Street,
London,
EC1Y 8RQ