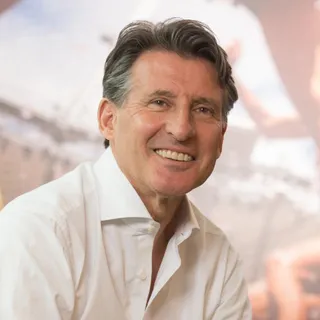 Sebastian Coe
Prolific world record setter, one of the UK's greatest Sebastian Coe, an iconic athlete, influential politician, and visionary leader, inspires audiences with his stories of Olympic triumph, strategic leadership, and the pursuit of excellence, emphasizing themes of change, collaboration, resilience, and innovation.
"A legend to open our company conference...tailored his speech to our conference theme and delivered the wow factor."
Sebastian Coe is the UK's most prolific world record setter and arguably the greatest runner to compete for his country.
Born in London in 1956, Coe began his athletics career age 12, at Sheffield's Hallamshire Harriers squad, where his father was his running coach. In 1977 he made his first mark as a professional athlete, winning the 800m at the European Indoor Championship. 
After a string of world records, Coe won his first Olympic medal in 1980 at the Moscow games, taking gold in the 1,500m. His second gold came in 1984 at the Los Angeles Olympics. His famous rivalry with fellow runner Steve Ovett dominated athletics through much of those years, and he quickly became the UK's best known and most cherished athlete - setting 12 middle-distance world records.
Coe retired from athletics in 1990 and moved into politics. In 1992, he was elected as Conservative Member of Parliament for Falmouth and Camborne, a seat he held for 5 years, when he became Private Secretary to William Hague, the Leader of the Opposition. In 2000 he was appointed a life peer, becoming Lord Coe of Ranmore.
With his sporting and political nous, Coe was asked to head London's bid to host the 2012 Olympic and Paralympic Games. He led London to victory over Paris, with many pointing to his rousing speech at the 2005 vote in Singapore as the decisive moment. Despite early public cynicism, Coe helped win over the media and London went on to host a phenomenally successful Olympic Games, with Coe at the helm.
Following the games, Coe was elected Chairman of the British Olympic Association - a post he held until 2016. He is also Non- Executive Chairman of CSM Sport & Entertainment marketing agency. In 2015, he was elected President of the world governing body for athletics, World Athletics (formerly the IAAF), having been a Vice President since 2007.
In the Summer of 2020, Coe was approved as an International Olympic Committee (IOC) member at its 136th IOC Session, and also became a Director at the British Olympic Association.
Packing his speeches with anecdotes from his time as an Olympic athlete, an MP, his chairmanship of London 2012, his turnaround of the British Olympic Association and his presidency of World Athletics through troubled times, Lord Coe demonstrates to audiences his political and strategic expertise in guiding large organisations on the global stage.
His themes include leadership, collaboration, crisis management, building resilience, handling change and challenging the status quo. Lord Coe believes in creating a clear, strong vision for an organisation - a simple, transferable set of values which are adhered to at every moment and by every employee whatever their role. This vision, he contends, is key in times of change and turbulence.
Throughout his career Lord Coe has found success by leading from the front to make vision a reality. He turned London 2012 into one of the UK's most successful missions of all time. Lord Coe brings energy, passion and innovation to all his work - qualities which captivate his audiences the world over.
What people said about Sebastian Coe
"A legend to open our company conference...tailored his speech to our conference theme and delivered the wow factor."

Noble Foods
Want to know more about Sebastian Coe
Other speakers you might like
Speakers Corner (London) Ltd,
Ground and Lower Ground Floor,
5-6 Mallow Street,
London,
EC1Y 8RQ