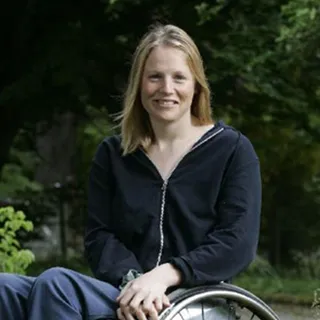 Karen Darke: Inspirational & Motivational Speakers
Paralysed from the chest down, Karen Darke doesn't let anything stop her. A paralympic cyclist, Karen is on the road to Rio. An expert in overcoming adversity in both sports and life, Karen's motivational story will leave audiences invigorated. Embracing challenge and achieving the impossible, the adventurer and author can apply her experience in overcoming obstacles to any context.
"Karen Darke was quite outstanding and inspirational."
Girls On the Move - Scottish Executive Project
Sport, Teamwork, Adventure, Adversity, Diversity & Equality
Motivational Speakers, Keynote Speakers
Paralympic cycling champion Karen Darke is an adventurer, author and  motivational speaker , who can apply the determination and grit required for professional sport, to making a business succeed at the highest level.
Full of adventurous spirit, Karen was climbing a cliff in Scotland at the age of 21 when she fell, and became paralysed from the chest down for the rest of her life.
It was the same defiance and love of adrenalin and challenges that have motivated her to overcome the challenges her body has to face, with a toughness and vigor of mind she never knew she had.
Only the night before the accident Karen told a friend that she would rather die than be paralysed.
She had no idea that what she believed was the end of her life would become the start of an extraordinary new adventure.
Finding fortune in misfortune, Karen adopted a strength of mind that would lead her into seemingly unachievable situations and to persevering until she found success.
Challenging physical and mental barriers, Karen has achieved the unthinkable. Sit-skiing; hand-cycling; triathlons, marathons and kayaking in some of the most inhospitable places on earth, are just a small example of Karen's incredible achievements.
Karen's most physically challenging adventure was a 600 kilometre traverse of the Greenland ice cap which took her a month to complete, and where she had to battle 200 mile an hour winds and temperatures below 40 degrees.
Competing in the Para Thriathlon, taking a trip to the South Pole and representing Team GB in the Rio Olympics, Karen is an incredible sportswoman and thrill seeker.
Sharing her motivational story and extraordinary life on the speaking circuit, Karen can deliver business lessons and educate audiences on how to overcome life's adversities.
For further information or to book Karen Darke, call us on +44 (0) 20 7607 7070 or email info@speakerscorner.co.uk
What people said about Karen Darke
"Karen Darke was quite outstanding and inspirational."

Girls On the Move - Scottish Executive Project
Want to know more about Karen Darke
Other speakers you might like
Speakers Corner (London) Ltd,
Ground and Lower Ground Floor,
5-6 Mallow Street,
London,
EC1Y 8RQ